The 2022-23 NBA season continues on Tuesday with a three-game slate that includes a Western Conference matchup between the Sacramento Kings and the Utah Jazz at Vivint Arena in Salt Lake City, Utah.
De'Aaron Fox ACTIVE, Kevin Huerter DAY-TO-DAY for Kings – Jazz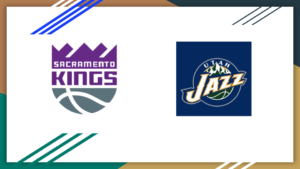 RELATED: Celtics – Thunder Injury Report: Will Robert Williams III and Jayson Tatum JOINING tonight?
After finishing a six-game homestand with 127-126 and 126-125 victories over Denver and Utah, the Sacramento Kings (19-16; 19-16 ATS) began a two-game road trip with a 118-108 loss to the Memphis Grizzlies on Sunday.
The Kings shot 40.6% from the field against the Grizzlies and gave up 64 points in the paint. They also gave up a whopping 21 offensive rebounds to the Grizzlies, who led by as many as 14 points at one point.
Last Sunday, De'Aaron Fox had 19 points and six assists, but he also turned the ball over five times. Domantas Sabonis had a double-double of 18 points and 14 rebounds, Harrison Barnes had 16 points and five rebounds, and Malik Monk had 18 points and three assists in 26 minutes off the bench.
MORE: Are Giannis Antetokounmpo and Khris Middleton COMPETING vs. Wizards. Injury Update for Bucks- Wizards
Injury Report
According to Jason Anderson of The Sacramento Bee, Huerter is listed as questionable for Tuesday's game against Utah due to back soreness
It's unclear when Huerter sustained the injury, but Sacramento's medical staff will keep a close eye on him ahead of Tuesday's game. He'll most likely put his back through a morning shootaround and pregame warmups to see if he can play..
The Utah Jazz (19-20; 21-18 ATS) are on a four-game losing streak after falling to the Miami Heat 126-123 at home on Saturday.
The Jazz disappointed their fans on New Year's Eve after a disappointing three-game road trip that ended with a heartbreaking loss at Golden 1 Center in Sacramento. They were defeated by Tyler Herro's buzzer-beating 3-pointer.
Utah shot 43.2% from the field (17-for-40 from deep), while the Heat made 50.6% of their shots. In the paint, the Jazz were outscored 54-32. Lauri Markkanen led Utah with 29 points and 14 rebounds, Jordan Clarkson had 22 points and three assists, and Malik Beasley added 17 points off the bench.
Injury Report
| PLAYER | POSITION | UPDATED | INJURY | INJURY STATUS |
| --- | --- | --- | --- | --- |
| Collin Sexton | SG | Mon, Jan 2 | Hamstring | Expected to be out until at least Jan 10 |