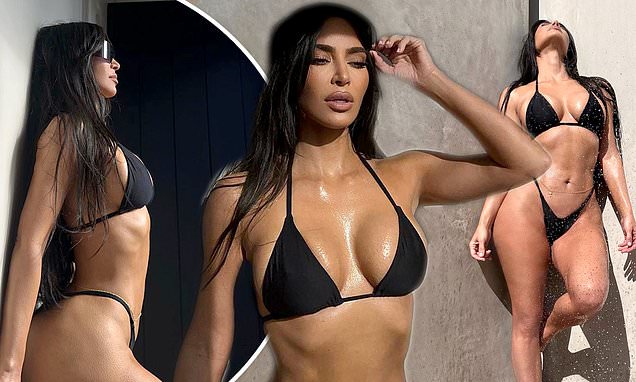 Kim Kardashian posted some new photos to Instagram late on Wednesday morning, showcasing her incredible hourglass figure.
Kardashian shows off her gold cross belly chain while showering in a skimpy black bikini
The 42-year-old reality TV star smolded in a new black string bikini from her second SKIMS collection, which she has dubbed "game-changing swimwear designed for more than the water."
The veteran of the reality show was spotted taking a shower in a gray concrete outdoor structure while wearing her black hair down.
The former wife of Kanye West had thoughtfully accessorized her swimsuit ensemble, donning a yellow gold belly chain with a cross pendant.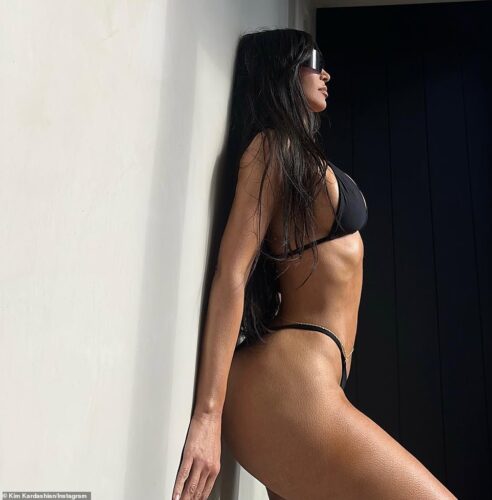 In addition to the $72 bathing suit, the businesswoman was also wearing a diamond-encrusted chain anklet as she struck her best supermodel poses for the camera.
Kim had her raven hair loosely draped over her shoulders, and she was completely makeup-free to draw attention to her toned body.
After a night out the night before, Kim Kardashian was spotted working out for two hours straight the next day.
After returning from Europe, where she modeled, the jetsetter was lifting heavy weights in a gym.
The star bent her back while she pulled up a weight that said 80 Iron Grip on one side.
The reality star was modeling the same tank top with leggings in order to show off the incredible results of her rigorous exercise routine.
The Skims creator also revealed that she had spent two hours in a workout session with Senada Greca, the 40-year-old creator of the CrushIt app.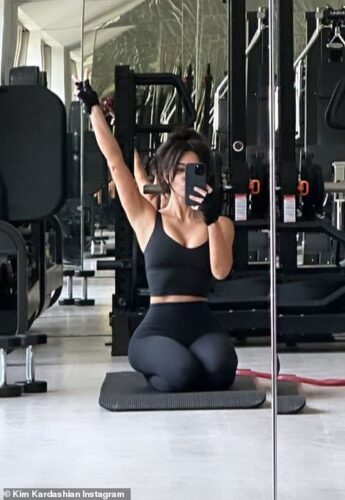 Kim said she had "jet lag" from her time in Europe for the Dolce & Gabbana show and filming of her show The Kardashians.
'Nothing like a 2 hr workout w Senada Greca to get my jet lag back on track,'
While working out with Senada last week, she wore a bra top. Instagram users could read the phrase "I mean look at these gainz we've been making" across their feed.
Earlier this month, Senada shared a photo of the two of them along with a compliment to the hard work of the Kardashians star.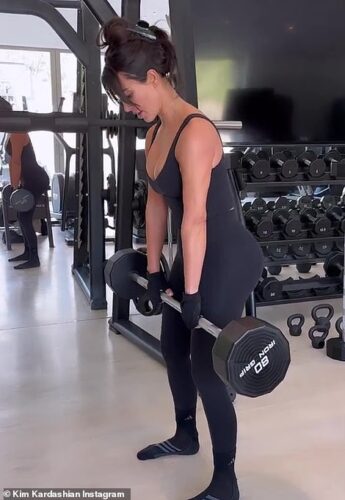 'The hardest working woman in the room!' she said.
'Yes you heard that right! It's my honour to be training with Kim and to see the person that she truly is: hard working, dedicated, consistent and caring,' she said.
'She puts in the work for 2 hours and never complains even when I push her past what she would think are her limits.
'I know the strength that lays within her, and now, together, we're working on Kim stepping into her strength.
'So excited about this journey.'
Kim wrote in response to the praise, 'I'm so excited for our journey. Stepping into strength with you.'