The Jazz defeated the Clippers 110-102 as 3.5-point road underdogs with a total of 218.5 points in their first meeting of the season on November 6.
Final injury reports LA Clippers – Utah Jazz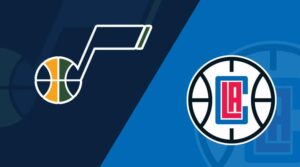 The Los Angeles Clippers (10-7; 8-9 ATS) will wrap up a three-game homestand Monday, looking for their third straight win. Following a 96-91 victory over the Detroit Pistons on Thursday, the Clippers routed the struggling San Antonio Spurs 119-97 on Saturday.
The Clippers' injury report for Monday's game against the Utah Jazz does not include Kawhi Leonard (knee).
For the first time this season, Leonard appears set to do the unthinkable and play in three consecutive games. After missing nearly a month due to complications from his surgically repaired knee, the superstar wing returned against Detroit on Thursday and also played in Saturday's win over the Spurs.
Paul George (knee) is listed as doubtful for Monday's game against the Jazz.
George suffered a knee injury during Saturday's game against the Spurs, but the injury isn't thought to be serious. Even if he misses Monday's game, it appears unlikely that he will be out for long.
Luke Kennard (calf) will miss Monday's game against the Utah Jazz.
Kennard is still nursing a strained right calf and has no set return date. This will be his third absence in a row, and he is expected to be re-evaluated sometime this week.
The Jazz keep passing the ball and finding open shots. They average 27.8 assists per game, which ranks sixth in the NBA. Utah is fourth in the league in terms of adjusted offensive efficiency (115.8 points per 100 possessions) and eleventh in terms of 3-point percentage (37.3%).
Mike Conley (knee) avoided major ligament damage but will be out for at least two weeks with a strained left knee.
Conley suffered a non-contact injury to his left knee against Portland on Saturday night. While he'll be out for the rest of the month, the fact that he avoided serious injury is a huge relief for both the Jazz and the veteran point guard.