The Ravens' head coach, John Harbaugh, hopes that whenever they have a contract with a player who can help them win, they will do so.
Is Blake Martinez or Jason Pierre Paul going to have a contract?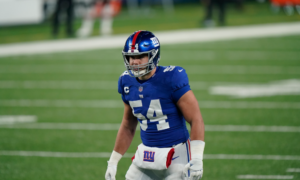 The Ravens hosted Blake Martinez and Jason Pierre Paul in for vacations this week. The head coach John Harbaugh appears willing to keep them around for a longer period of time.
When questioned if the team had strategies to sign one or both of the players in the close future, Harbaugh responded, "I hope so," before updating that he wants to be sure that the players are in good enough health to make a contribution to the Ravens' wins.
According to the team's website, he said "That would be great".  "I've already asked them once, and I'll ask them again, 'Are you in shape? Are you ready to go play? Are you ready to run around and help us win?' Because that's what I care about; we're not trying to do anyone any favors here. We want guys who will come in and help us win right now. If you're ready to do that — that's really for any player — come on."
At this point, both players haven't signed with the team, but the Ravens make a decision that any veteran can provide them with something they've been lacking in the first two weeks of the season.
About
John Harbaugh
Baltimore Ravens

Position:
Head coach
Personal information
Born:
September 23, 1962
Toledo, Ohio
Career information
High school:
Pioneer (Ann Arbor, Michigan)
College:
Miami (OH)
Career history
As a coach:

Western Michigan (1984–1987)
Running backs coach & outside linebackers
Pittsburgh (1987)
Tight ends coach
Morehead State (1988)
Special teams coach & secondary coach
Cincinnati (1989–1996)
Special teams coordinator
Indiana (1997)
Special teams coordinator & defensive backs
Philadelphia Eagles (1998–2006)
Special teams coordinator
Philadelphia Eagles (2007)
Defensive backs coach
Baltimore Ravens (2008–present)
Head coach

Career highlights and awards

Super Bowl champion (XLVII)
AP NFL Coach of the Year (2019)
PFWA Coach of the Year (2019)

NFL coaching record

Most road playoff wins: 8

Head coaching record
Regular season:
138–88 (.611)
Postseason:
11–8 (.579)
Career:
149–96 (.608)
Coaching stats at PFR