In response to Santa Ono's statement, Jim Harbaugh gives his thoughts.
What was Jim Harbaugh's reaction to the statement that Santa Ono made?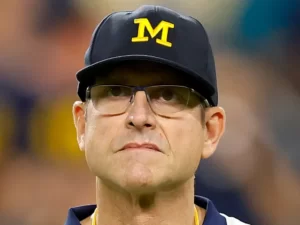 At this point, no one besides Jim Harbaugh knows where Harbaugh will coach in the year 2023, not even Jim Harbaugh himself. It is possible that he will choose to remain at the University of Michigan, but it is also possible that he will make the decision to part ways with the Wolverines and return to the NFL.
In order for Harbaugh to return to the National Football League (NFL), an NFL team would need to extend an employment offer to him. It appears that this has not taken place as of yet, according to the reports. However, UM President Santa Ono and Athletic Director Warde Manuel reportedly want Harbaugh to remain at the University of Michigan.
The following statement about Harbaugh was issued by Ono on Thursday in regard to him.
"I pleased to share that I have been having very positive and constructive conversations with our Athletic Director and Football Coach," Ono tweeted. "Warde Manuel and I both want to see Jim Harbaugh stay as the head football coach of the University of Michigan Wolverines."
Harbaugh provided a response through the official University of Michigan Twitter account almost immediately after Ono tweeted that statement.
"I am in full support of President Ono's message to our fans and appreciate his support for me and the team," Harbaugh said.
Where do you think Harbaugh will be coaching in the year 2023? Do you believe there will ever be an offseason in which rumors about the NFL do not involve Jim Harbaugh?