The Denver Broncos will pay any price in 2023 to hire a highly regarded NFL head coach.
Jim Harbaugh and the Denver Broncos have expressed "strong mutual interest" in collaborating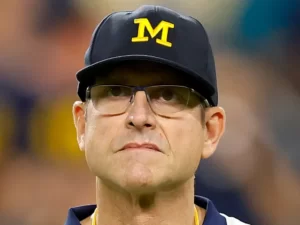 On Saturday's episode of NFL Total Access, Ian Rapoport said that Denver and Harbaugh have a lot in common and that the Broncos would like to have him. The mutual interest in working together increases Harbaugh's chances of becoming the next Broncos head coach but doesn't guarantee his employment.
"As far as Harbaugh and the Broncos, there is some strong mutual interest here, guys. Not saying it's going to happen, but at least both sides like each other." per NFL Network's Ian Rapoport.
Coach Jim Harbaugh Overall NFL record of 44-19-1; postseason mark of 5-3
Since it has been reported that Payton wants a multi-year contract extension worth at least $20 million per year, it is reasonable to assume that Harbaugh will demand at least that amount. It's rumored that the Broncos have no problem paying this historically high salary to their new head coach despite the NFL's historic salary cap.
Payton has earned a reputation as the premier offensive play-caller and quarterback guru. Nonetheless, he is still bound to the New Orleans Saints by a contract. Denver is willing to pay the Saints' asking price, but doing so would significantly reduce the team's already meager draft capital ahead of the NFL draft.
Payton may have some new competition for the starting job with the Broncos. Considering the Los Angeles Chargers blew a 27-point lead in the Wild Card Round and lost, they may decide to part ways with Brandon Staley. There is speculation that Payton would prefer to live in Los Angeles and coach Justin Herbert if he were to be one of the next NFL coaches let go.
Even if Denver doesn't end up with Payton, they're still in a strong position to sign one of their top choices. Considering their shared interest in returning to the NFL, he is a leading candidate to replace Harbaugh in Denver.
Meanwhile, the 2022 finalist Dan Quinn is making a comeback as a serious contender for the Broncos' coaching position.