Posted by Katie F.

on February 24th, 2011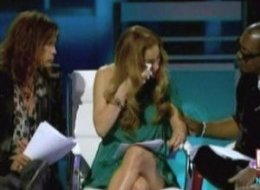 Jennifer Lopez broke down in tears on last night's episode of American Idol. She had to break the news to contestant Chris Medina that he would be going home. Lopez explains her on-camera breakdown by saying that she was just being herself.
"This is the first experience where I feel like people are getting to know who I am as a person. It's such a vulnerable place to be."
Medina has had quite a following since the first time he appeared on the show.  During his audition, the 26-year-old told the judges about his fiancée, Juliana. Two months before the couple was planning to get married, she was in a serious car accident that caused traumatic brain injury. Medina promised to take care of his longtime love, saying:
"I was about to make vows just two months from the accident – through thick and thin, 'til death do us part, for better or worse. What kind of guy would I be if I walked out when she needed me the most?"
The judges were so touched by this that they even invited Juliana into the audition room to meet her. The moving story is also the reason Jennifer Lopez was so upset about Medina's elimination. She didn't want to be the one to break the news to someone who has gone through so much.
"I just couldn't believe I had to deliver this news to this person who I felt had been through a lot, and is going through a lot, and I felt like I didn't do it well enough for him."
Medina took the news well and thanked the judges before leaving. He says he won't let the elimination stop him from pursuing his dream. His single will be released for sale tonight and he is even appearing on "The Tonight Show" with Jay Leno on Friday.
Category:
American Idol
,
Jennifer Lopez