The Arizona Cardinals travels west to SoFi Stadium to visit the slumping Los Angeles Rams on Sunday.
James Conner ACTIVE, Matthew Stafford QUESTIONABLE for Cardinals – Rams Game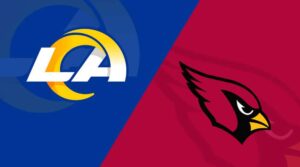 You can read also: Jonathan Taylor and Darren Waller injury status for Colts vs Raiders game
Both teams had disappointing seasons, finishing with losing records. The Rams appear unlikely to defend their Super Bowl title from February, while the Cardinals have struggled all season against good and bad teams alike.
The Rams are attempting to complete a season sweep of their NFC West rival.
Last week, the Cardinals lost their second game in a row, 31-21 to the Seattle Seahawks in Glendale, after blowing a 14-10 third-quarter lead.
In the loss, Cardinals quarterback Kyler Murray was sacked four times.
Both the Rams and the Cardinals are dealing with injuries this week. In addition to Matthew Stafford and Kyler Murray being questionable for Sunday, each team is dealing with a slew of other injuries.
The Rams' two key starters, Greg Gaines and Alaric Jackson, are listed as questionable on the injury report.
Due to elbow and knee injuries, they are unlikely to play against the Cardinals. Ty Nsekhe would replace Jackson at left tackle, and Marquise Copeland would likely see increased playing time if Gaines is out.
Malcolm Brown and Travin Howard have also been ruled out by Sean McVay. Due to an illness, Robert Rochell will be questionable to play. He's been out sick for the entire week.
Stafford is undoubtedly the Rams' biggest unknown. McVay stated that the Rams may not know whether their quarterback will suit up until Sunday, potentially up to 90 minutes before kickoff.
The Cardinals have eight questionable players, including Murray and Budda Baker. Rodney Hudson and Max Garcia, the starting offensive linemen, have already been ruled out.
Read more: Will D'Andre Swift playing Lions vs Bears game?
Injury Report
Arizona Cardinals
S Budda Baker (Ankle) – QUESTIONABLE
OL Cody Ford (Illness) – QUESTIONABLE
CB Byron Murphy Jr. (Back) – QUESTIONABLE
QB Kyler Murray (Hamstring) – QUESTIONABLE
LB Dennis Gardeck (Ankle) – QUESTIONABLE
OL D.J. Humphries (Back) – QUESTIONABLE
CB Christian Matthew (Hamstring) – QUESTIONABLE
K Matt Prater (Right Hip) – QUESTIONABLE
WR Greg Dortch (Groin) – QUESTIONABLE
OL Max Garcia (Shoulder) – OUT
OL Rodney Hudson (Knee) – OUT
OL Kevin Beachum –
DL Jonathan Ledbetter –
WR Rondale Moore –
DL JJ Watt –
Los Angeles Rams
CB Robert Rochell (Illness) – QUESTIONABLE
QB Matthew Stafford (Concussion) – QUESTIONABLE
C Brian Allen (Knee) – QUESTIONABLE
RB Malcolm Brown (Hamstring) – OUT
LB Travin Howard (Hip) – OUT
LB Travin Howard (Hip) – OUT
DT Greg Gaines (Elbow) – DOUBTFUL
OT Alaric Jackson (knee) – DOUBTFUL
DT Aaron Donald –