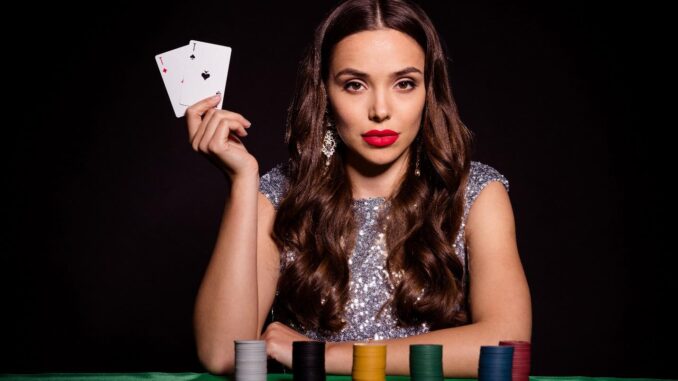 In physical sports that require a certain athletic ability, there is a clear line that splits men and women and their aptitude to compete against one another. Naturally, in the world of sports, it made sense to create separate competitions to allow both sexes to compete and play a fair game. However, in games like poker, where men and women aren't differentiated according to physical ability, it is still a mystery as to why the fairer sex isn't adequately represented. 
Today, the world of poker is dominated by men. Simply look at any open tournament you'll see the ratio of men to women is 20 to 1 on a good day. At a higher level, the ratio becomes even more depressing. Take, for instance, the All-time Poker Money List, the only female name you'll see up there is Vanessa Selbst, surrounded by 99 men. It really is high time that things started to change!
Whether you choose to try your hand at a brick-and-mortar casino or register at a live dealer online casino with no deposit bonuses is entirely up to you. But it's high time we debunk this myth that poker is a man's game. Skill and strategy know no gender, and that's how it should be.
In this article, we'll look at some of the reasons why women are underrepresented in the world of poker and why it's time for a change.
A Brief History of Poker 
When you look at the history of the game, it is easy to understand why it is popular with men. Historically, poker was a male-dominated game played by sailors and cowboys. If females happened to be engaged in the game, they'd be going against the social norms of the period, and those that did break with the convention were often branded with negative labels by their contemporaries. So, women clearly started on the back foot, as there was an aura of exclusivity surrounding the game.
Misogyny Everywhere
As we've established, casinos have historically been male-dominated spaces. It is no great surprise that these men often lose all inhibitions when they've had a few drinks. Women often reported having to deal with misogynistic behavior at casinos. From unsolicited attempts at seduction to straight-up insults, casinos haven't always been the most pleasant environment for female poker players. Understandably, to develop a passion for the game, you need to have the right exposure and lots of it, but having to exist in an environment that isn't conducive to learning isn't going to create a strong female following for the game. Even female players like Selbst, Boeree and Rousso, who've made it to the top, have spoken out about sexism in poker. 
Online Casinos – Are They Game Changers For Women in Poker? 
The world of gambling has come a long way with the spread of technology. Nowadays, you no longer need to physically get yourself to a brick-and-mortar casino; you can play all your favorite games from the comfort of your home. With countless online casinos available, players from all walks of life can access these games. It would be convenient to believe that the advent of online gaming would have changed the nature of the game and increased women's access to poker. After all, you don't even need to reveal your sex if you choose to use an alias. 
Although online casinos certainly provide a much-needed step in the right direction for women, the reality is that the ratio is still heavily weighted in favor of male players. You don't need to dig too deep to see that the gambling industry is still stuck in old ways despite its new, technically sophisticated facade. You simply need to look at the male-focused nature of online casino advertising to see that the industry isn't doing much to attract female players or even pique their interest in the game. While this approach is understandable from a business point of view, as online casinos need to choose a target market, it exacerbates the idea that poker is a 'man's game'. 
The Future Of Women In Poker
Since time immemorial, women have played a very peripheral role in the world of gambling. There is no real reason why women can't compete against their male counterparts on the felt. However, the gaming environment hasn't been an overly welcoming space for women either. With that being said, the number of successful female poker players is on the rise, and there is hope that these figures may inspire others to give the game a try. The advent of online casinos also provides a more egalitarian environment where women should feel safer engaging in the game. But it is still early days, so we can only hope that online casino operators will take steps to tap into the female poker-playing market – which could potentially be a hugely lucrative sector for them!