The Los Angeles Clippers (14-11) will travel to Miami, FL on Thursday to face the Miami Heat (11-14). The game will begin at 7:30 p.m. EST inside the FTX Arena.
The latest injury status of Tyler Herro and Luke Kennard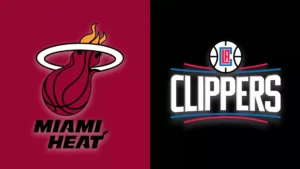 Both of these teams have been impressive to begin this season, as they are two of the best defensive teams in the league. They will stay aggressive in this game, as I am expecting a battle in this one.
The Miami Heat are coming off a 116-96 defeat to the Detroit Pistons. Miami struggled on both ends of the field in that game and will look to rebound in this one. If they want to beat the Clippers at home, they must improve on both ends of the court.
About injury: Gabe Vincent PG (Knee) and Dewayne Dedmon C (Foot) are both listed as questionable for this game.
Jimmy Butler did not play in their most recent game, but he is not listed on the injury report.
Tyler Herro (ankle) is expected to play against the Clippers on Thursday, according to Anthony Chiang of the Miami Herald.
Herro is still listed as probable due to a lingering ankle injury that sidelined him for two weeks in mid-November, but he's played in seven straight games since.
During that time, he has averaged 20.6 points, 6.9 rebounds, and 6.6 assists in 37.3 minutes, including a 34-point outing last time out.
The Los Angeles Clippers are entering this matchup after beating the Charlotte Hornets, 119-117. Leonard hit a game-winning shot in his first game back, as the Clippers are looking to get hot. They will have to show up on the offensive end of the court if they want to challenge the Heat on the road.
Concerning injury, the following players are listed as out: Luke Kennard SG (Rest), John Wall PG (Knee), Norman Powell SF (Groin), and Marcus Morris SF (Illness).
Luke Kennard (injury management) will not play against the Heat on Thursday.
Kennard scored nine points (3-5 FG) in 20 minutes after returning from a nine-game absence due to a calf injury. His absence on Thursday was most likely due to rest. However, the lefty sharpshooter is expected to be limited until he regains full strength.