The Mavericks will try to extend its six-game winning streak when it travels to Houston on Monday night. The Mavericks picked up a 129-114 win against the Rockets last Thursday and a 112-106 win against Houston two days before Christmas.
Latest news on Luka Doncic and Alperen Sengun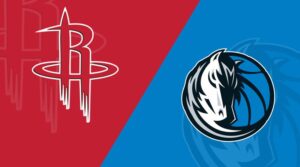 The Mavericks has finally started to get on the right track after sitting below the .500 mark on Dec. 19. The Mavericks have rattled off a season-high six game winning streak since that loss.
Luka Doncic became the first player in NBA history with 250 points, 50 rebounds and 50 assists in a five-game span. He torched the Rockets for 50 points, 10 assists and eight rebounds in the game on Dec. 23.
Doncic had one of the best weeks of any player in league history, topping the 30-point mark in each of those contests and reaching the 50-point mark twice in that span.
It's getting harder and harder to mention adjectives for Doncic's recent performances, and he's making a statement right now that he may be the best player in the entire Association.
The Dallas Mavericks is playing without Dorian Finney-Smith (groin) and Maxi Kleber (hamstring) and Josh Green (elbow).
The Houston Rockets has been one of the worst teams in the NBA this season, which started with nine losses in its first 10 games. The Rockets put together one decent stretch from the end of November to the middle of December, winning six times in 10 games. Houston picked up upset wins against Philadelphia, Milwaukee and Phoenix. They lost five straight games after that to wrap up a seven-game homestand.
Alperen Sengun (back) is listed as questionable for the game against Dallas on Monday.
As expected, the big man is a 50-50 bet at this point after missing Saturday's loss to the Knicks due to a sore back. Sengun had previously played only 17 minutes against the Mavericks on Thursday, owing to early foul trouble. The Rockets hope to have him back in action when they begin a four-game week on Monday, but a decision may not be made until Monday evening.