This Friday, the Milwaukee Bucks will travel to Brooklyn to take on the Brooklyn Nets. These two teams matched up earlier in the season, as the Bucks walked away with a 110-99 victory.
Latest news on Giannis Antetokounmpo and Kyrie Irving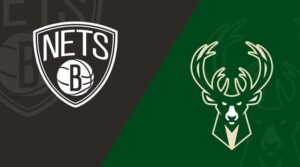 The Milwaukee Bucks are coming off a 114-106 loss to the Cleveland Cavaliers. They struggled on both ends of the court, and if they want to challenge the Nets on the road, they will need to be more efficient in this one.
Due to left knee soreness, Giannis Antetokounmpo is questionable for Friday's game against Brooklyn.
Antetokounmpo has been on a roll recently, posting back-to-back double-doubles while scoring at least 40 points in each of those games. Even though he has a sore knee, he should be able to play through it against the Nets.
While Khris Middleton (Knee) is questionable in this game.
Middleton has missed the last three games due to a sore right knee and appears to be trending toward a fourth consecutive absence. Assuming he remains out, MarJon Beauchamp will likely draw another start for Milwaukee.
The Brooklyn Nets are coming off a 143-113 victory over the Golden State Warriors. On the offensive end of the court, they were on fire, scoring consistently throughout the game. They'll have to stay hot at home if they want to compete with the Bucks.
Kyrie Irving (calf) is not listed as injured for Friday's game against the Bucks, according to Kristian Winfield of the New York Daily News.
Irving was unable to play against Golden State on Wednesday due to right calf soreness, but he will return after a one-game absence. In his last three games, he has averaged 31.3 points, 5.0 rebounds, and 4.3 assists in 35.0 minutes.
According to Alex Schiffer of The Athletic, Watanabe is questionable for Friday's game against the Bucks due to right hamstring tightness.
Watanabe is questionable for Friday's game after appearing in all five of the Nets' previous games. In his absence, Royce O'Neale and Seth Curry are likely to see extended playing time.