This Monday, the Brooklyn Nets will travel to Cleveland to take on the Cleveland Cavaliers. This will be the first meeting between these two Eastern Conference foes.
Latest news on Donovan Mitchell and Kyrie Irving for Monday' game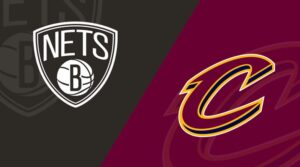 The Nets enter this game having won their eighth consecutive game. They defeated the Bucks, 118-100, thanks to a strong defensive performance. If they want to challenge the Cavs on the road, they must continue to contest shots near the rim and on the perimeter.
Irving (calf) will not be limited in minutes when he returns to the court against the Cavaliers on Monday.
Irving will presumably return to his starting role for Brooklyn on the ball after one game off. He scored 32 points or more in four of his last five games.
According to Kristian Winfield of the New York Daily News, Harris (knee) has been ruled out of Monday's game against the Cavaliers.
Harris missed Friday's game against the Bucks due to left knee soreness and will be out for the second straight game on Monday. Seth Curry's playing time will most likely increase once more.
The Cleveland Cavaliers are coming off a 118-107 loss to the Toronto Raptors. The Cavaliers struggled on both ends of the floor, and they will need to be more efficient in this game if they are to win at home.
Donovan Mitchell finished the Raptors' 118-107 loss with 12 points (4-16 FG, 3-12 3Pt, 1-4 FT), five rebounds, four assists, and three steals in 35 minutes.
Mitchell only made one basket in the first three quarters before going 3-for-6 and scoring eight points in the fourth. The poor performance snapped a nine-game streak of scoring at least 23 points. In addition to struggling from the field, he missed three of four free throws, the first time this season he missed more than two, and his free-throw percentage fell to 88.0 for the season.
He is prepared and will try to improve his performance today against the Nets.
Dylan Windler (Ankle), Dean Wade (Shoulder), and Ricky Rubio (knee) are out for this game.