The Detroit Pistons will conclude their six-game road trip on Friday, November 25, 2022, with a cross-conference game against the Phoenix Suns at Footprint Center in Phoenix, Arizona, with tip-off set for 9:00 PM ET.
Cade Cunningham OUT, Deandre Ayton ACTIVE for Suns – Pistons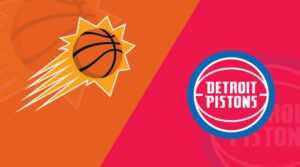 You can read also: The latest injury status of Tobias Harris and Joel Embiid for 76Ers vs. Magic game
The Detroit Pistons
For the first time this season, the Detroit Pistons (5-15; 9-9-2 ATS) have linked two victories.
After snapping a seven-game losing streak with a 110-108 victory over the Denver Nuggets, the Pistons defeated the Utah Jazz 125-116 on the road this past Wednesday.
Detroit outscored the Jazz 52-42 in the paint on the second day of a back-to-back set, shooting 49.4% from the field and 50.0% from downtown (12-for-24).
Last Wednesday, the Pistons had 24 assists and only seven turnovers.
Bojan Bogdanovic had 23 points and five rebounds, Kevin Knox had 21 points and a plus-9 net rating, and Marvin Bagley III chipped in 19 points, six rebounds, a couple of assists, and a steal.
Bojan Bogdanovic had 22 points and nine rebounds in a narrow win over Denver last Tuesday. He's scored 20 points in five straight games.
The Pistons score 110.6 points per 100 possessions (21st in the NBA), but give up 118.3 points in return (29th).
Cunningham (lower leg) is expected to be out indefinitely due to a stress fracture in his shin, according to The Athletic's James L. Edwards III.
For Cunningham, the team is considering both rest and surgery. The Pistons are expected to invest in the future health of the No. 1 overall pick in 2021 and have no intention of rushing him back, which makes sense for a rebuilding Detroit team.
Killian Hayes, Cory Joseph, and Alec Burks could see expanded roles in his absence.
Cunningham started the season strong, averaging 19.9 points, 6.2 rebounds, 6.0 assists, 1.4 triples, 0.8 steals, and 0.6 blocks in 33.3 minutes per game.
Injury Update for Detroit Pistons
SG Jaden Ivey (Knee): Game Time Decision
SF Hamidou Diallo (Illness): Game Time Decision
PG Killian Hayes (Calf): Game Time Decision
SF Saddiq Bey (Ankle): Expected to be out until at least Nov 27
Cade Cunningham (Lower Leg): Expected to be out until at least Dec 14
C Isaiah Stewart (Toe): Expected to be out until at least Nov 29
Read more: Is Ja Morant, Zion Williamson playing Friday's game? Injury Reports Pelicans – Grizzlies
The Phoenix Suns
The Phoenix Suns (11-6; 11-6 ATS) won 115-105 at home against the Los Angeles Lakers last Tuesday.
It was the Suns' second straight victory, and they covered the spread for the fourth time in five games, covering a 9.5-point spread.
Phoenix took advantage of the Lakers' poor shooting performance (4-for-22 from deep) to derail Anthony Davis' monster performance. Devin Booker and Mikal Bridges each scored 25 points.
Phoenix has the NBA's third-highest offensive rating, averaging 117.0 points per 100 possessions. The Suns shoot 38.4% from 3-point range (5th in the league) and average 28.2 assists per 100 possessions (2nd).
Their defense is ranked sixth in terms of adjusted efficiency (109.6 points per 100 possessions) and seventh in terms of field goal percentage (45.5%).
Chris Paul (heel) has resumed practice but will miss his eighth consecutive game on Friday. Cameron Johnson (knee) will be out for some time, and Landry Shamet is still in the concussion protocol.
Deandre Ayton had a double-double of 14 points and 15 rebounds. The Suns shot 16-of-34 from beyond the arc and dished out 23 assists.
Ayton provided 14 points (7-11 FG, 0-1 3Pt), 15 rebounds, two assists and one steal in 32 minutes during Tuesday's 115-105 win over the Lakers.
Ayton had his hands full against Anthony Davis, but he nevertheless managed to put up an excellent total. Ayton is starting up a bit of a streak, as Tuesday marked his third consecutive double-double.
Injury Update for Phoenix Suns
 SG  Landry Shamet (Concussion): Expected to be out until at least Nov 26
PG Chris Paul (Heel): Expected to be out until at least Nov 26
PF Jae Crowder (Not Injury Related): Expected to be out until at least Dec 11
SF Cameron Johnson (Knee): Expected to be out until at least Dec 11