As the Giants began their preparation for Saturday night's NFC Divisional game against the Eagles in Philadelphia, head coach Brian Daboll seemed generally encouraged by the team's injury situation.
Fisrt Injury Reports New York Giants for Saturday's game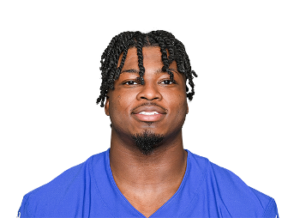 Azeez Ojulari injured his ankle on Christmas Eve while visiting Minnesota, so he was unable to fully participate in practice until later in the week. A right quad injury he sustained in the Giants' 31-24 wild-card round playoff victory over the Vikings limited his participation on Tuesday.
Due to the knee injury that had sidelined him for the previous eight games, Adoree' Jackson was a limited participant in early-week practices last week. Jackson, who was a limited participant last week after shutting down Justin Jefferson in the Giants' big win, was once again a limited participant this week due to a back issue.
Head coach Brian Daboll said: "Everybody will be doing something today. It's a walk-through (practice), but if it wasn't, everybody would be doing something. I think (safety Jason) Pinnock has turned a corner pretty quick here. Azeez will still be limited. A couple other little bumps and bruises, but hopefully heading in the right direction."
Pinnock was listed as a full practice participant Tuesday despite leaving Sunday's game and going to the hospital in the fourth quarter after getting kicked in the stomach while making a tackle on a Minnesota kickoff return.
Ojulari, who left Sunday's game with a bruised right quad, is the most concerning of the injured, as he often has been this season. According to Ojulari, Cousins' helmet made contact with his quad.
In addition to ending the Vikings' second offensive series, that play also put Ojulari out of commission for the day. The outside linebacker's calf and ankle injuries have forced him to sit out 11 games this year. The Giants are naturally concerned about Ojulari's status for Sunday's game against the Eagles.
Hybrid linebacker Landon Collins (ankle), safety Julian Love (hamstring), and cornerback Fabian Moreau (knee) were recently added to the injury report (hip). Receiver Isaiah Hodgins (ankle) was added to the injury report the day before Sunday's win over the Vikings and was listed as limited, but he was clearly fine, as evidenced by his eight catches for 105 yards and a touchdown.