Brandon Ingram (born September 2, 1997) is a New Orleans Pelicans NBA player. In 2016, the Los Angeles Lakers selected him second overall and named him to the NBA All-Rookie Second Team. He was traded to New Orleans and named NBA Most Improved Player in 2020.
Latest Injury Updates for Brandon Ingram of Pels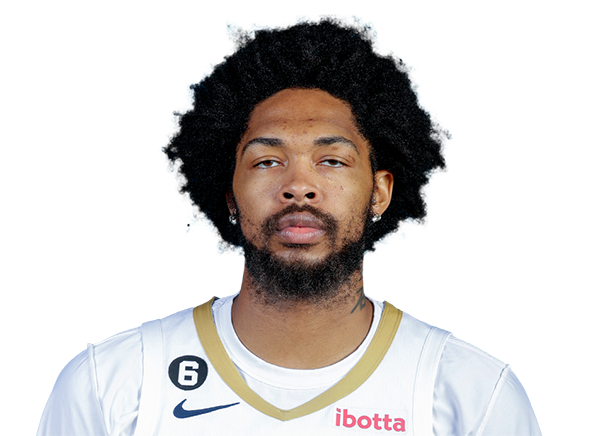 Injury:
Injury Status: Active
UPDATE (Feb. 04):
Ingram finished Thursday's 111-106 loss to Dallas with 26 points (10-20 FG, 1-2 3Pt, 5-6 FT), nine rebounds, seven assists, and one block.
Ingram was fantastic as a scoring threat, and he finished the game needing only one rebound to complete a double-double, and three assists to record double digits in assists for the second time this season.
After missing a significant amount of time due to a toe injury, the veteran forward has returned to form, appearing in four games and averaging 19.3 points, 6.0 rebounds, 6.3 assists, and 0.8 steals.
UPDATE (Feb. 02):
Ingram played all 33 minutes of Tuesday's 122-113 loss to the Nuggets and finished with 16 points (5-17 FG, 1-4 3Pt, 5-6 FT), nine assists, four rebounds, a block, and a steal.
Ingram did a good job of passing the ball to open teammates, but he still can't put the ball in the basket. Despite a dismal 29.8 percent field goal percentage in his first three games back from a 29-game toe injury absence, fantasy managers should have high hopes for his resurgence.
Update (Jan. 31):
For Tuesday's game against the Nuggets, Ingram (toe) is not listed on the Pelicans' injury report, as reported by Jim Eichenhofer of the team's official site.
While Ingram sat out the second game of the Pelicans' recent back-to-back set to rest his injured left toe, he will play Tuesday in Denver as planned.
Following a two-month absence due to the toe issue, he played in back-to-back games before sitting out Sunday, averaging 17.5 points, 5.5 rebounds, and 4.5 assists in 27.5 minutes. However, he shot just 30.0 percent from the field and 1-for-11 from deep during those contests.
Although Pels' star appears to be overcoming some rust, he should still be asked to carry a heavy load against the Nuggets.
Update (Jan. 29):
During Saturday's 113-103 loss to the Wizards, Ingram had 22 points (8-22 FG, 1-5 3Pt, 5-5 FT), six rebounds, four assists, and one steal in 29 minutes.
Ingram looked a little better in the loss, scoring 22 points on 8-of-22 shots. The efficiency is still a problem, and it might stay that way for a few more games. The fact that he was able to play for 29 minutes is a good sign, and we hope that number will go up in the games to come.
Update (Jan. 28):
Ingram (toe) played 26 minutes in Wednesday's 111-102 loss to the Timberwolves. He scored 13 points (4-18 FG, 0-6 3Pt, 5-5 FT), grabbed five rebounds, gave out five assists, and stole one ball.
After missing the Pelicans' last 29 games while he healed from a bruised left toe, Ingram's performance in his first game in two months was not a big surprise. All six of his long-range shots missed, which was only the third time all season that he failed to make a three-pointer.
On the bright side, Ingram got a good amount of playing time in his first game back. As he gets further away from his toe injury, he should get more playing time in the games to come.
Update (Jan. 25):
Shams Charania of The Athletic reports that Brandon Ingram (toe) is expected to play Wednesday against the Timberwolves, unless something goes wrong during pregame warmups.
Ingram has been out for two months with a bruised left big toe, but he has finally turned a corner. Head coach Willie Green said that the 25-year-old was able to do full-contact, 5-on-5 work in practice over the past few days.
Because he was out for a long time, Ingram is likely to have some kind of time limit on Wednesday, as long as he doesn't get hurt before the game starts at 8 p.m. ET.
If Ingram comes back soon, players like Trey Murphy, Naji Marshall (toe), Jose Alvarado, and Dyson Daniels (ankle), who have all taken on bigger roles while the one-time All-Star has been out, might get less playing time.
Brandon Ingram Wiki
No. 14 – New Orleans Pelicans

Position

Small forward

League

NBA

Personal information

Born

September 2, 1997
Kinston, North Carolina, U.S.

Listed height

6 ft 8 in (2.03 m)

Listed weight

190 lb (86 kg)

Career information

High school

Kinston
(Kinston, North Carolina)

College

Duke (2015–2016)

NBA draft

2016 / Round: 1 / Pick: 2nd overall
Selected by the Los Angeles Lakers

Playing career

2016–present

Career history

2016–2019

Los Angeles Lakers

2019–present

New Orleans Pelicans