The Atlanta Hawks are on the road as they make their way to Brooklyn to play the Nets on Friday. The Hawks lead the series 103-85, including a 122-115 victory at home on April 2, 2022, in the most recent meeting.
Latest news on Yuta Watanabe and Trent Forrest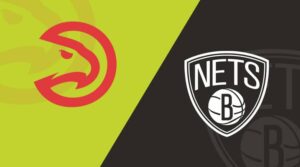 As the Knicks thrashed Atlanta Hawks on the road on Wednesday night, Atlanta lost their second straight game. The Hawks enter this match with a 7-game losing streak and a 13-12 record.
According to Brad Rowland of the Locked On Podcast Network, Trent Forrest (concussion) is questionable for Friday's game against the Nets.
Due to the league's concussion protocols, Forrest has missed the last three games, but he could play on Friday. Even if he is deemed fit to play, he probably won't get much playing time for Atlanta.
De'Andre Hunter (hip) is doubtful to play in Friday's game against the Nets.
De'Andre Hunter, who missed the previous three games due to a right hip flexor strain, might play on Friday. When Hunter returns to the court, AJ Griffin will probably be replaced in the starting lineup.
The 24-year-old forward is expected to return soon, if not on Friday, as he was able to practice in some capacity on Thursday.
Meanwhile, Dejounte Murray underwent an MRI on Thursday, which revealed a left ankle sprain; he is anticipated to miss two weeks of action.
Brooklyn Nets managed to win Wednesday night's game against Charlotte despite failing to cover the spread for their fifth victory in the previous six games. With a record of 14-12, the Nets were seven games behind the Celtics and second in the Atlantic Division heading into Thursday.
According to Alex Schiffer of The Athletic, Yuta Watanabe will not play against the Hawks on Friday because of a hamstring injury.
Watanabe recently started 3-on-3 practice and hoped to play again on Friday or Saturday, but his strained right hamstring will keep him out for at least one more game. It is uncertain if he will be able to play against the Pacers on Saturday.