Utah Jazz will face Minnesota Timberwolves for the second time this season. In the first game, the Jazz defeated the Timberwolves 132-126 in overtime.
Final Injury Update Utah Jazz – Minnesota Timberwolves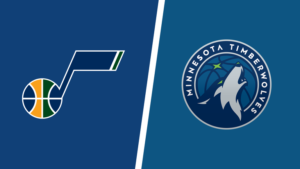 This past Wednesday, Minnesota Timberwolves (12-12; 9-15 ATS) defeated the Indiana Pacers 121-115 to finish a three-game homestand with a 2-1 SU and ATS record.
Taurean Prince (shoulder) will not suit up against the Jazz on Friday.
Prince will miss a seventh straight game due to a right shoulder dislocation. Kyle Anderson will continue to benefit from his absence, while Prince's next chance to take to court will come Saturday against Portland.
Friday will mark the conclusion of a six-game homestand for the Utah Jazz (15-12; 15-12 ATS), who will be going for their fourth win in their last five games.
Johnny Juzang (wrist) is listed as out for Friday's game against the Timberwolves.
According to Sarah Todd of The Deseret News, Mike Conley (lower leg) is listed as questionable for Friday's game against the Timberwolves.
The veteran guard, who has missed the Jazz's last nine games because of a lower leg injury, might play against the Timberwolves on Friday.
Expect Jordan Clarkson and Malik Beasley to see an increase in minutes with Conley doubtful and Collin Sexton (hamstring) out.
If the 35-year-old is unable to play Friday, his next opportunity to play will be against Denver on Saturday.
Sexton's MRI on Thursday revealed a mild right hamstring strain, and he will be reevaluated in a week.
In the second half of Wednesday's 124-123 victory over the Warriors, Sexton suffered a hamstring injury. Once he recovers from his own injury, Sexton is anticipated to return to a bench role because Mike Conley (lower leg) is likely to play on Friday.