The Seattle Seahawks (9-8 SU, 7-10 ATS) and the San Francisco 49ers (13-4 SU, 11-6 ATS) are set for an NFC Wild Card battle on Saturday at Levi's Stadium.
Final Injury Updates 49ers –

Seahawks for

Wild Card Game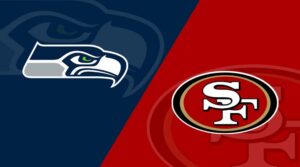 Don't miss: Chargers injury updates for Wild Card Round vs. Jaguars: Mike Williams, Joey Bosa
Phil Haynes, DeeJay Dallas, Xavier Crawford, and Shelby Harris have all been listed as questionable for the Seahawks' Wild Card game in Santa Clara due to injuries.
While the participation of those four is in doubt, the rest of the team, including safety Ryan Neal, who is not listed as questionable, should be healthy enough to play.
Neal's return from a knee injury that has forced him to miss the last three games would be a huge boost for the defense as it gets ready to face the formidable 49ers offense coached by Kyle Shanahan.
Kenneth Walker III, the team's starting running back, will also play after missing practice on Wednesday to rest an ankle injury he sustained in Week 13.
Related: The Seahawks updates Kenneth Walker III injury status
Seattle Seahawks injuries
G Phil Haynes (ankle, did not participate in practice) – Questionable
RB DeeJay Dallas (ankle/quadriceps, limited participation) – Questionable
CB Xavier Crawford (hamstring, did not participate) – Questionable
DE Shelby Harris (knee, limited participation) – Questionable
San Francisco 49ers injuries
QB Jimmy Garoppolo (foot, did not participate) – Out
CB Ambry Thomas (ankle, did not participate) – Out
The 49ers ruled out QB Jimmy Garoppolo with a foot injury, and CB Ambry Thomas with an ankle ailment. Both absences were expected after they missed the entire week of practice.
According to Matt Barrows of The Athletic, Ambry Thomas will not play in the wild-card matchup against the Seahawks on Saturday because of an ankle injury.
Since Week 15, Thomas has been dealing with an ankle injury, and as a result, he will now miss his second game in a row due to the injury. Because the cornerback contributes almost exclusively on special teams when healthy, the absence of the player is not likely to have any effect on the 49ers' secondary.