The Dallas Cowboys will travel to Santa Clara to take on the San Francisco 49ers for the NFC Divisional Playoffs at Levi's Stadium. Last season on Jan. 16, 2022, the 49ers eliminated Dallas from the playoffs in the wild-card round 23-17.
Updates Injury Status of Jimmy Garoppolo and Jason Peters for 49ers vs. Cowboys game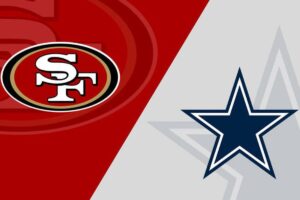 49ers Injury Report
Jimmy Garoppolo, the 49ers' former starting quarterback, has missed the last eight games due to an injury, but he was spotted on the field doing physical therapy on Friday for the first time since breaking his foot on December 4.
"It was the first week he was able to come out in the field, walk around a little bit, do some work out there," 49ers coach Kyle Shanahan said. "So we saw him doing his rehab stuff too as we came out."
The 49ers will be without Garoppolo and backup cornerback Ambry Thomas (ankle) for their NFC Divisional Playoff matchup with the Dallas Cowboys at Levi's Stadium on Sunday. There were no additional injuries reported by the 49ers.
The 49ers did not put Garoppolo on IR to keep the door open for him to return for the playoffs, but Shanahan said he did not think the veteran quarterback would be available for backup duty if the 49ers make it to the NFC Championship Game next week.
Since Garoppolo's injury, veteran Josh Johnson has backed up Brock Purdy. If Garoppolo were to return to action, he would replace Purdy as the team's No. 2 quarterback.
Thomas missed last week's game against the Seattle Seahawks, so veteran cornerback Janoris "Jackrabbit" Jenkins was called up from the practice squad to serve as a backup. On Sunday, you can count on seeing Jenkins back in uniform.
Cowboys Injury Report
The Cowboys announced that veteran offensive tackle Jason Peters would not be playing due to a hip injury. With a knee injury, Jayron Kearse, a starting safety, is questionable to play.
T Jason Peters (hip) – Out
S Jayron Kearse (knee) – Questionable