The injury report for Sunday's NFC Championship Game between the San Francisco 49ers and the Philadelphia Eagles was released on Wednesday. It includes important players from both teams.
First Injury Reports for 49ers vs. Eagles game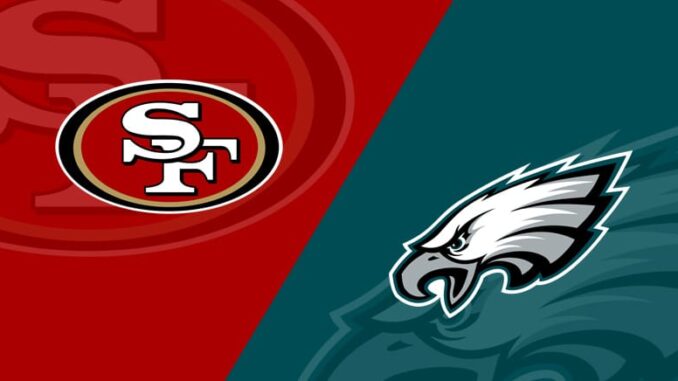 The Philadelphia Eagles and the San Francisco 49ers have been the best teams in the NFC all season, so it makes sense that they're both in the NFC Conference Championship Game.
Even though both teams are mostly healthy, each has a few players who are hurt. Here are the injuries for the 49ers vs. Eagles game on Wednesday.
PHILADELPHIA EAGLES
OT Lane Johnson (groin) – LP
CB Avonte Maddox (toe) – LP
This is an estimated injury report for how these players would have participated in a full practice if the Eagles had held one on Wednesday, when they held a walkthrough instead.
Johnson is postponing surgery on his groin injury so that he can participate in the playoffs despite missing the final two weeks of the regular season. He will likely play against the 49ers.
After injuring his toe in Week 16, Maddox has been sidelined. Earlier in the season, he suffered a knee injury that kept him out of action for a considerable amount of time. If he is healthy enough to play on Sunday, the Eagles would have more depth in the slot, where C.J. Gardner-Johnson has been starting in Maddox's absence.
Perhaps the most interesting thing about the Eagles' injury report is who isn't on it. Philadelphia's update does not mention either A.J. Brown, who suffered a minor hip injury in the Divisional Round, or Jalen Hurts, who missed two regular-season games with a shoulder injury.
SAN FRANCISCO 49ERS
UPDATE (Jan. 28):
OUT: QB Jimmy Garoppolo (foot)
QUESTIONABLE: RB Elijah Mitchell (groin), CB Ambry Thomas (ankle)
The 49ers ruled Jimmy Garoppolo out, as expected. Brock Purdy, who has yet to lose a game, will compete in the conference championship game hoping to make history as the first rookie quarterback to ever win a title game.
Christian McCaffrey participated in every aspect of Friday's practice and is currently listed as "questionable" for Sunday's game. How close to a hundred percent he actually is is still up in the air.
The 49ers' leading rusher from the previous week, Elijah Mitchell, has been limited in practice this week and is now listed as questionable to play. It seems like he is currently functioning at less than 100%, even if he is able to play. Damage to San Francisco's top two defensive backs is problematic.
Ambry Thomas, the 49ers' backup cornerback and fourth-leading tackler on special teams, has been limited in practice all week and is also questionable to play.
Despite being limited in practice this week, both Deebo Samuel and Charles Omenihu are listed as questionable to play.
RB Christian McCaffrey (calf) – DP
RB Elijah Mitchell (groin) – DP
WR Deebo Samuel (ankle) – DP
QB Jimmy Garoppolo (foot) – DP
DE Charles Omenihu (oblique) – LP
CB Ambry Thomas (ankle) – LP
Head coach Kyle Shanahan told reporters on Wednesday that McCaffrey, Mitchell, and Samuel, who were all injured in the 49ers' Divisional Round win over the Cowboys, should be available to play against the Eagles.
It's not surprising that San Francisco is being cautious with McCaffrey in the playoffs, given that they frequently gave him practice days off during the regular season. Mitchell and Samuel have both missed time this year due to injuries, but their current ailments look to be relatively minor. Samuel, for his part, claims he'll be fit to play this coming Sunday.
Since Week 13, when Garoppolo hurt his foot, he has been unable to play. Even though it was reported that he might return at some point, Shanahan said that he won't be back this week. Garoppolo had an X-ray on Tuesday, and if he is healthy enough to play in the big game, he will back up Brock Purdy.
Monday afternoon, police in Seattle, Washington, arrested Omenihu on suspicion of misdemeanor domestic violence. The NFL claims that Omenihu's status for this coming Sunday has not changed. According to Shanahan, the 49ers will wait for the legal process to conclude before deciding whether or not to bench Omenihu for Sunday's game against the Eagles.