Rebekah Vardy posted a scathing Instagram story "put her money where her mouth is". This story related to Coleen Rooney.
A scathing Instagram story "put her money where her mouth is"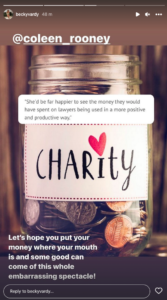 Rebekah Vardy slammed Coleen Rooney in an Instagram story after she was told she would have to pay 90% of her legal fees by next month in the wake of the 'Wagatha Christie' libel case.
As she opened up on Instagram, the WAG described the circumstance a "whole embarrassing spectacle."
Jamie Vardy's wife posted a photo of a charity money jar alongside a newspaper quote that said, "She'd be far happier to see the money they would have spent on lawyers being used in a more positive and productive way."
Rebekah then wrote: "Let's hope you put your money where your mouth is and some good can come from this whole embarrassing spectacle!" She also tagged Coleen's Instagram handle in the post.
She also shared another quote on Instagram, saying, "It's always the ones with dirty hands pointing fingers."
Mrs. Vardy, 40, lost her high-profile libel case against Mrs. Rooney, 36, back in July when Mrs. Justice Steyn ruled that Mrs. Rooney's viral social media post accusing Mrs. Vardy of leaking her private information to the press was "substantially true."
The judge ruled in an order made public today that Mrs. Vardy must pay 90% of Mrs. Rooney's legal fees.
Mrs. Justice Steyn stated in a statement that the total legal bill, which Coleen has yet to finalize with the court but was estimated by Coleen's lawyer, Paul Lunt, is around £1.66 million.
Mrs. Justice Steyn, on the other hand, clarified that she had done "the best" she could to "estimate the likely level of recovery," but that the cost would be around £800,000, despite the fact that the defendant had not yet produced a bill.
She described Rebekah's actions as follows: "The claim has been dismissed. The defendant succeeded in establishing that the essence of the libel was ­substantially true."
According to a court document obtained by The Mirror, Coleen wanted 100% of her legal fees reimbursed, but Rebekah only wanted to pay 80% after the judge ruled in her favor on several issues at trial.
Based on the document, the defendant initially sought payment of £1.25 million, but this figure was later reduced to £ 1 million.
Rebekah (claimant) believes that the payment should be £361,174 if it covers 80% of the costs, or £451,468 if all costs are paid on a standard basis. If the case is resolved on an indemnity basis, the claimant should be ordered to pay £726,000, plus VAT.
Vardy, on the other hand, argued that she should not be forced to pay the full costs because she was effective in three matters, including the 'Secret WAG' newspaper column. She also contended that Coleen's "Reveal Post" caused significant harm and disputed Coleen's claim that the post was in the public interest.
Coleen's lawyer, Paul Lunt of Brabners, issued the following statement to The Mirror: "The High Court has today decided that Rebekah Vardy must pay Coleen Rooney's legal costs on an indemnity basis – the highest basis that the Court could order. "The reasoning given for this decision is that there was a finding at trial that Rebekah Vardy had deliberately deleted or destroyed evidence. That behaviour falls outside the ordinary and reasonable conduct expected of a party in legal proceedings."
"This followed a separate finding regarding the loss of evidence that was in the possession of Rebekah Vardy's former agent, Caroline Watt." Coleen's pursuit of that evidence is a major reason why her legal fees have risen significantly from the initial estimates given to the court long before the trial began.
"Rebekah Vardy has been ordered to pay £800,000 to Coleen Rooney by 15 November as an interim payment until the final total she must pay is either agreed or decided upon by the court. Naturally, Rebekah will also be responsible for her own legal costs of bringing her failed libel action against Coleen.
"Today's decision also makes Rebekah liable to pay for legal costs incurred by certain journalists from News UK, publishers of The Sun newspaper, following her unsuccessful efforts to involve them in the proceedings."