Ime Udoka had a badness scandal in his career. And there are more worrying information emerges during the investigation.
Ime Udoka scandal: As the investigation continues, more troubling evidence is revealed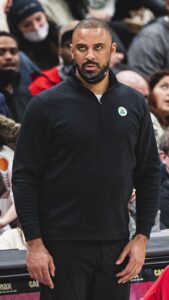 Ime Udoka, the head coach of the Boston Celtics, was suspended for a year on allegations that he had a consensual relationship with a female employee.
Many sports fans have questioned whether Udoka's sentence was appropriate given the frequent partnerships that take place in corporate settings.
More details about the organization's decision-making process have surfaced. Evidently, the internal probe was spurred not only by Udoka's contact with the female employee, but also by what they learned before.
Udoka used "crude language" in his talks with a female employee before starting an inappropriate working connection with her, sources told ESPN.
This information significantly increased the harshness of his one-year suspension. It will allegedly be challenging for him to be hired back as the coach.
The main finding and policy breach was reportedly the unequal power dynamics between Udoka and the female staff member.
The Celtics won't prevent Udoka from accepting a position elsewhere, Celtics owner Wyc Grousbeck stated in a press conference.
Some teams have made an effort to learn more about Udoka's suspension in order to perhaps evaluate him for future coaching positions. Udoka has expressed regret and said he accepts the punishment.
Matt Barnes, a former NBA player, originally criticized the Celtics' choice on social media. But he revised his position after receiving a call from a reliable source.
Barnes believes Udoka will be fortunate if he ever resumes coaching in the league. Even more astonishing, he claims, is who Udoka's affair was with.
For the first time in more than a decade, Udoka took the Celtics to the NBA finals during his debut season as head coach. To accomplish such a feat, he joined the ranks of a select group of coaches, particularly coaches of color.