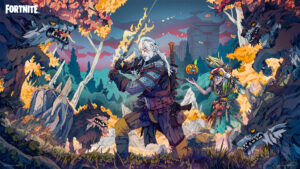 While Fortnite Geralt of Rivia Page 1 Quests have been available for a week, many players are already wondering when Page 2 will be released.
Fortnite Geralt of Rivia Page 2 Quests Release Date
Geralt of Rivia Quests is part of the latest Fortnite collaboration with The Witcher. Geralt of Rivia Quests Part 1 is now available to those who purchased the premium battle pass. There are five quests that, when completed, will award players with the Geralt of Rivia outfit.
When players complete the quests on Page 1, they will be able to access Page 2. Those quests, however, will not be available until February 28.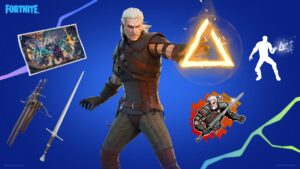 The upcoming Page 2 Quests, according to Epic Games, will include five more rewards, including an alternate Style for Geralt. If the quests on Page 1 are any indication, the upcoming quests will take players all over the map, dealing damage with various weapons and interacting with various POIs and NPCs. 
Collect bars – awaiting page unlock
Deal 200 damage with Ex-Calibur rifle – awaiting page unlock
Gain 100 shields from potions – awaiting page unlock
Eliminate an opponent while mounted – awaiting page unlock
Complete page 2 quests – awaiting page unlock
While waiting for Page 2, players can take part in School of Llama challenges to earn even more cosmetics.
About Fortnite 
Fortnite is a 2017 online video game developed by Epic Games. It has three game modes with the same gameplay and engine: Fortnite Battle Royale, a free-to-play battle royale game with up to 100 players; Fortnite: Save the World, a cooperative hybrid tower defense-shooter and survival game where up to four players fight zombie-like creatures and defend objects with traps and fortifications they build; and Fortnite Creative, where players can freely create worlds and battle arenas.
Fortnite
Genre(s)
Survival, battle royale, sandbox
Developer(s)
Epic Games
Publisher(s)
Platform(s)
Windows
macOS
Nintendo Switch
PlayStation 4
PlayStation 5
Xbox One
Xbox Series X/S
iOS
Android
First release
Fortnite: Save the World
July 25, 2017 (early access)
Latest release
Fortnite Creative
December 6, 2018