The Indiana Pacers will face the Golden State Warriors in a cross-conference matchup at Chase Center in San Francisco, California, on Monday at 10:00 p.m. ET.
Injury Update Golden State Warriors – Indiana Pacers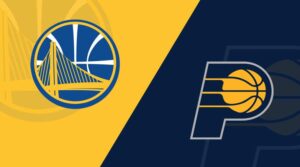 The Golden State Warriors (13-11; 11-13 ATS) are coming off a 120-101 thrashing of the Houston Rockets. It was their second straight victory and their fifth in six games.
With right adductor tightness, Andrew Wiggins is questionable for Monday's game against the Pacers.
Wiggins scored a season-high 36 points against the Rockets on Saturday, but he apparently tweaked something in his groin.
Golden State's Jordan Poole (ankle) is also questionable, though Klay Thompson (Achilles) isn't listed on the injury report.
Jordan Poole is questionable for Monday's game against Indiana due to soreness in his left ankle.
On Saturday, he started in place of Klay Thompson (Achilles) and finished with 21 points (8-14 FG, 5-8 3Pt), two rebounds, five assists, and one steal in 28 minutes, but he now has an ankle injury.
Poole has yet to miss a game this season, but his availability for Monday's game is uncertain.
It was the Pacers' fifth consecutive outing away from home, and the Pacers had previously suffered two heavy losses, 137-114 at Sacramento and 139-119 at Utah.
T.J. McConnell will miss Monday's game due to illness.
The good news is that McConnell does not have COVID-19, but with the Pacers starting a back-to-back set, he could miss a couple of games. Tyrese Haliburton (groin) is also out for the Pacers, so Bennedict Mathurin and Andrew Nembhard will likely face heavy workloads.
Tyrese Haliburton (groin) will be out of the game on Monday.
The Pacers' star guard was doubtful for Sunday's game, and coach Rick Carlisle has since revealed that Haliburton will miss both halves of the Pacers' back-to-back set on Sunday and Monday.