When the Tennessee Titans face the Los Angeles Chargers on Sunday afternoon, they will look to extend their lead in the AFC South. The Chargers are 8-2 in their last ten meetings with the Titans.
Latest news on Mike Williams and Treylon Burks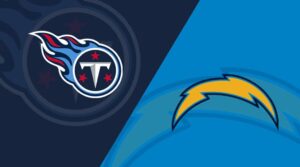 The Chargers injuries
Mike Williams returned from a nagging ankle injury last week and quickly surpassed 100 yards. On one of his six catches, he also scored. Josh Palmer ran more routes than him, but that was most likely due to the Chargers gradually reintroducing Williams into the lineup.
He should pass Palmer this week after three full practices. Williams is a strong WR2 candidate against the Titans.
More: The latest Injury Status of Mike Williams for the Chargers
The Chargers ruled three players questionable, including cornerback Bryce Callahan (groin), defensive lineman Sebastian Joseph-Day (knee), and right tackle Trey Pipkins, among others (knee).
The Chargers have listed safety Derwin James (quad) as questionable.
"Progressing," Chargers coach Brandon Staley said of James' injury status on Friday: "He's been doing workouts and stuff like that. I know he's feeling better. We'll see about this game, but definitely improving."
Derwin James – Doubtful
Bryce Callahan – Questionable
Sebastian Joseph-Day – Questionable
Trey Pipkins – Questionable
The Titans injuries
The Titans will be short-handed on multiple fronts, with seven players ruled out for Sunday's game.
Outside linebacker Denico Autry (knee), cornerback Tre Avery (concussion), wide receiver C.J. Board (ribs), wide receiver Treylon Burks (concussion), cornerback Kristian Fulton (groin), running back Dontrell Hilliard (neck), and safety Amani Hooker will all miss the game (knee).
Treylon Burks did not practice all week due to a concussion and has now missed six consecutive Titans practices. At this point, he should be considered questionable for Week 16.
Chig Okonkwo and Robert Woods will benefit the most from Tennessee's passing offense this week.
Related: Injury Reports of Treylon Burks by Titans
Denico Autry – Out
Tre Avery – Out
C.J. Board – Out
Treylon Burks – Out
Kristian Fulton – Out
Dontrell Hilliard – Out
Amani Hooker – Out