Posted by Regina

on November 16th, 2009


The late TV actress and 70s poster icon, Farrah Fawcett, has given the equivalent of the middle finger to surviving partner Ryan O'Neal by apparently shutting out the actor from her multi-million dollar will.

And to add salt to this celebrity wound, Fawcett, who died in June at age 62, left about $96,000 to her secret longterm lovah, college sweetheart Greg Lott, The Daily Express reported in its Sunday editions.

"I am a beneficiary of her estate. I have been asked to maintain the confidentiality of the estate, which I must respect," said Lott, a former college football player who dated the "Charlie's Angel" star when both were students at the University of Texas at Austin.

This final act may give some credence to Lott's revelations last summer that he and Fawcett had rekindled their romance in the late 1990s, during one of her many breakups with O'Neal. Lott had published some love letters between the two, but O'Neal dismissed them as a "disgruntled ex-boyfriend from the 1960s."

As opposed to a disgruntled ex-boyfriend from the 00s?

The former Texas Longhorn, who served two prison terms for drug trafficking, swears Fawcett's decision to include him in the will is proof she still cared for him.

Lott has also accused O'Neal of keeping him away from Fawcett in her final days.

"This news that I am indeed in her will and Ryan is not raises some serious questions about why he prevented me from seeing the love of my life in her final months," Lott said. "Farrah meant the world to me and I know that I equally had a profound impact on her. I cannot understand how those around her chose to keep me from her."

The bulk of her estate does go to her and O'Neal's son Redmond, 24, currently serving a minimum one-year sentence at a residential rehab program. Red, who, let's face it, looks like a poor man's Prince Harry, pleaded no contest in September for bringing heroin into a jail facility.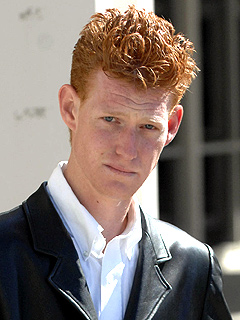 Category:
Celebrity Breakups
,
Celebrity Couples
,
Celebrity Deaths
,
Celebrity Feuds
,
Celebrity Liars
,
Celebrity Photos
,
Celebrity Rehab
,
Celebrity Scandals
,
Celebrity Trainwrecks
,
Farrah Fawcett