We'll go over these players' injuries, Jakobi Meyers, Mecole Hardman, Skyy Moore, and Irv Smith Jr., in the section below. Let's devive to it.
Fantasy Injury Update: Jakobi Meyers, Mecole Hardman, Skyy Moore and Irv Smith Jr. for Week 18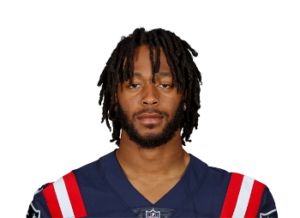 Also read: Week 18 NFL Injury Report: Latest news on Dak Prescott, Teddy Bridgewater, James Conner, and Robbie Anderson
SUMMARY
Jakobi Meyers
Mecole Hardman
Skyy Moore
Irv Smith Jr.
1. Jakobi Meyers
UPDATE (Jan. 8): Meyers (shoulder) is listed as questionable for Sunday's game against the Bills after only limited practice this week, according to Evan Lazar of the Patriots' official website.
UPDATE (Jan. 5): Meyers' participation in practice on Wednesday was limited.
Robbie Anderson left the game with a back injury and was unable to return after playing in 23% of the team's snaps in Week 17.
It's unclear whether Anderson will be able to play in Week 18, but 2022 has been a particularly forgettable season for him.
2. Mecole Hardman
UPDATE (JAN. 8): Mecole Hardman (pelvis) is inactive for Saturday's game against the Raiders.
UPDATE (JAN. 5): Hardman (pelvis) was limited at practice on Wednesday.
Hardman injured his abdomen after a strong Week 9 performance and was placed on injured reserve; we haven't seen him since.
He was designated for a return a few weeks ago, and his 21-day activation window begins this Wednesday.
However, he suffered a setback, and there is no guarantee that he will return. Even head coach Andy Reid stated that if he is activated, that is great, but if he is not, that is fine as well.
SEE MORE: After freak accident, Tee Higgins sent message to Damar Hamlin
3. Skyy Moore
Due to a laceration in his hand, the Chiefs rookie receiver left Sunday's game and was unable to return.
Head coach Andy Reid stated that the laceration occurred on the inside of his hand, which is not the ideal location for a laceration.
The Chiefs will monitor his reaction in the coming days before Wednesday's practice.
UPDATE (JAN. 8): Smith (ankle) was activated from the injured reserve list on Saturday.
Irv Smith Jr. returned to the practice field last week, triggering his 21-day return window, but he was not activated for Week 17.
As long as he doesn't have any setbacks during this week of practice, Smith could play in Week 18 as the Vikings prepare for their postseason run.
NFL SCHEDULE 2022 – WEEK 18
Saturday, January 7
Kansas City Chiefs at Las Vegas Raiders 4:30 p.m. ET
Tennessee Titans at Jacksonville Jaguars, 8:15 p.m. ET
Sunday, January 8
New England Patriots at Buffalo Bills, 1 p.m ET
Minnesota Vikings at Chicago Bears, 1 p.m ET
New York Jets at Miami Dolphins, 1 p.m ET
Tampa Bay Buccaneers at Atlanta Falcons, 1 p.m ET
Houston Texans at Indianapolis Colts, 1 p.m ET
Carolina Panthers at New Orleans Saints, 1 p.m ET
Cleveland Browns at Pittsburgh Steelers, 1 p.m ET
Baltimore Ravens at Cincinnati Bengals,
1 p.m ET or 4:25 p.m. ET depending on Week 17 MNF results. If Buffalo wins, the game will be played at 4:25 p.m. ET. If Cincinnati wins, it will be played at 1 p.m. ET.
New York Giants at Philadelphia Eagles, 4:25 p.m. ET
Los Angeles Chargers at Denver Broncos, 4:25 p.m. ET
Arizona Cardinals at San Francisco 49ers, 4:25 p.m. ET
Dallas Cowboys at Washington Commanders, 4:25 p.m. ET
Detroit Lions at Green Bay Packers, 8:20 p.m. ET
Los Angeles Rams at Seattle Seahawks, 4:25 p.m. ET