The latest injury reports involving standout wide receivers Mike Williams, Jerick McKinnon and J.K. Dobbins are causing concern among fantasy football owners.
Week 13 Fantasy Injury Update: Mike Williams, Jerick McKinnon and J.K. Dobbins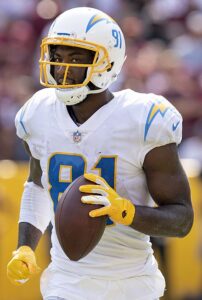 You can read also: Is it planned for Keenan Allen and Mike Williams to play on Sunday?
SUMMARY
Mike Williams
Jerick McKinnon
J.K. Dobbins
1. Mike Williams
UPDATE 6: Williams (ankle) wasn't practicing Thursday, but he was spotted off to the side working with Chargers' Director of Sports Performance Anthony Lomando
UPDATE 5: Williams (ankle) has been ruled out for Sunday's game against the Cardinals.
UPDATE 4: Coach Brandon Staley indicated Monday that Williams "kind of had a re-aggravation" of his previous ankle issue Sunday night against the Chiefs, but added that it was "not a significant re-injury," Eric Smith of the Chargers' official site reports.
UPDATE 3: He is questionable for Week 12 against Arizona.
UPDATE 2: Williams (ankle) is officially listed as questionable, but he's expected to play Sunday against the Chiefs.
UPDATED: According to Popper, Williams joined Allen in the Chargers' walkthrough on Friday after practicing in a limited capacity on Thursday.
Williams (ankle) returned to practice in a limited capacity on Wednesday and could return to game action this Sunday night.
Williams will almost certainly be labeled "questionable" after two consecutive limited sessions to end the week.
However, the fact that he was on the practice field should give fantasy owners hope for a possible Week 11 return.
Williams' return to the Chargers offense would provide a much-needed boost to an offense that lacks a big-play threat.
Williams did have his best game of the season in Week 2 against the Chiefs, hauling in eight passes for 113 yards and a touchdown.
2. Jerick McKinnon
UPDATE: McKinnon was a full participant on Friday and was removed from the injury report.
Jerick McKinnon has been dealing with a number of injuries in recent weeks, but this hamstring issue is potentially the most serious.
Read more: Fantasy Injury Week 11 Update: Gus Edwards, Mark Andrews, Kyler Murray and Deandre Hopskins
3. J.K. Dobbins
UPDATE 1: Dobbins (knee) practiced for the second day in a row on Thursday, but the Ravens aren't expected to activate him from injured reserve before Sunday's game against the Broncos, according to Jonas Shaffer of The Baltimore Sun.
UPDATE: Coach John Harbaugh relayed Thursday that he would characterize Dobbins' knee procedure "as a smashing success as far as you can tell right now."
In Week 3, Dobbins returned from a torn ACL, LCL, meniscus, and hamstring.
However, the Baltimore Ravens announced in Week 6 that Dobbins' knee had flared up during their game against the Giants.
He was then placed on injured reserve heading into Week 7, which meant Dobbins would have to miss at least four games, which, combined with the Ravens' Week 10 bye, means he'll be out until at least Week 11.
Last week, we learned from head coach John Harbaugh that Dobbins' surgery went well.
Dobbins gave an update on the Purple Playbook show this week, saying that he "didn't get reinjured" and that he didn't hurt himself.
Dobbins stated that he was not himself. A closer look revealed scar tissue that was making him feel unrecognizable.
NFL Schedule 2022 – NFL Week 13
Sunday, Dec. 4
Pittsburgh Steelers at Atlanta Falcons, 1 p.m., CBS
Denver Broncos at Baltimore Ravens, 1 p.m., CBS
Green Bay Packers at Chicago Bears, 1 p.m., Fox
Jacksonville Jaguars at Detroit Lions, 1 p.m., Fox
Cleveland Browns at Houston Texans, 1 p.m., CBS
New York Jets at Minnesota Vikings, 1 p.m., CBS
Washington Commanders at New York Giants, 1 p.m., Fox
Tennessee Titans at Philadelphia Eagles, 1 p.m., Fox
Seattle Seahawks at Los Angeles Rams, 4:05 p.m., Fox
Miami Dolphins at San Francisco 49ers, 4:05 p.m., Fox
Kansas City Chiefs at Cincinnati Bengals, 4:25 p.m., CBS
Los Angeles Chargers at Las Vegas Raiders, 4:25 p.m., CBS
Indianapolis Colts at Dallas Cowboys, 8:20 p.m., NBC
Monday, Dec. 5
New Orleans Saints at Tampa Bay Buccaneers, 8:15 p.m., ESPN