After losing to the Titans on Thursday Night Football, Packers fans were dissatisfied with Aaron Rodgers, their offense, and their season.
Packers fans are dissatisfied with team's performance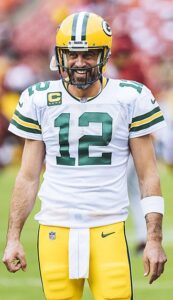 The Packers' victory over the Cowboys on Sunday was supposed to be a watershed moment. The offense appeared to be active. The team appeared to be primed for a playoff run. Then came Thursday, and Green Bay was right back where they started, losing to the Titans.
The offense was ineffective. The defense was vulnerable. And, in front of their home crowd, the team appeared far from playoff.
After a six-point first half, the boo birds came out early. They returned near the end of the game, as Aaron Rodgers and company were unable to close the gap in the 27-17 defeat.
The majority of fans reacted negatively to the ball's poor performance. They tweeted about it.
The booing of the Packers at home is music to my ears! 💯🙌🏾😂

— Terence M. Young (@Terence_M_Young) November 18, 2022
Wow…

Packers fans booing the team as they leave the field at the half trailing the Titans 14-6.

Yikes.

When have you ever heard that in Green Bay towards the home team?#TNF

— Jason Page (@TheBackPage) November 18, 2022
Home crowd booing the Packers pic.twitter.com/05nV3dwdhD

— no blue check (@keder) November 18, 2022
Lambeau is booing the Packers right now pic.twitter.com/0OhyUDxVyF

— 10,000 Takes (@10k_Takes) November 18, 2022
It's the Packers worst 11-game start (4-7) since 2006😬 pic.twitter.com/Bdrn4Bain1

— CBS Sports HQ (@CBSSportsHQ) November 18, 2022
Are the Packers back? pic.twitter.com/106F23dKXF

— Aaron Leming (@AaronLemingNFL) November 18, 2022
The last three offensive drives for the #Packers were absolutely horrible.

– 10 combined plays, 8 total yards, 0 points, 4:19 time off the clock

The boo's are coming out at Lambeau Field.

— Kyle Malzhan (@KyleMalzhan) November 18, 2022
Rodgers finished with 227 yards and two touchdowns, but the passes he didn't complete were far more important than the ones he did.
The focus has undoubtedly shifted to the Packers' struggles, but credit must also be given to Ryan Tannehill, Derrick Henry, and the Titans for their dominant road performance.
Christian Watson's incredible breakout week continued with two more touchdowns, bringing his total since Sunday to five.
Tannehill threw an interception but compensated by completing 22 of 27 passes for 333 yards and two touchdowns. Henry rushed for 87 yards and a touchdown while also connecting on a three-yard jump pass to Austin Hooper.