Posted by PZ

on February 18th, 2011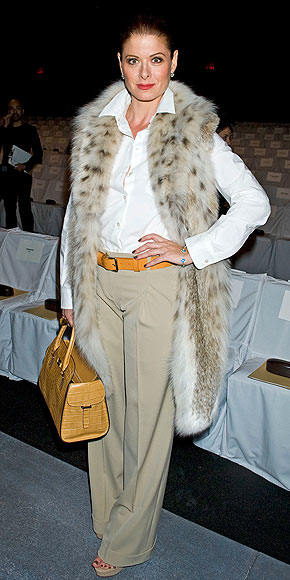 Debra Messing showed up to the Michael Kors Fall/Winter 2011 show which was held as part of New York Fashion Week. Debra has never particularly stood out for her style, so she had heads turning which she showed up in a chic fur gilet teamed up with a crisp white shirt, tailored pants and a pair of wedge heels. Debra looks sophisticated as well as on-trend in this outfit. The masculine-inspired tailoring in this look is on the cusp of what's current right now,  as well as the tan accents that she has added to the look with her coordinating belt and bag.
This look shows how an older, more mature woman can still wear fashion and use it to look youthful, on-trend and elegant. This is such a classy ensemble that makes Debra look beautiful too. It shows just how clothes can transform the wearer in to something that they want to project about themselves – now we can think of Debra as the sexy, sophisticated woman who does fashion just as well (if not better) than her younger Hollywood counterparts.
Category:
Debra Messing