The Portland Trailblazers (11-8) will play the Brooklyn Nets (9-11) this Sunday in Brooklyn, New York. This season, the Trail Blazers have continued to turn heads, while the Nets have yet to find their identity. The Nets won the previous meeting between these two teams, 109-107.
Latest news on Damian Lillard and Kyrie Irving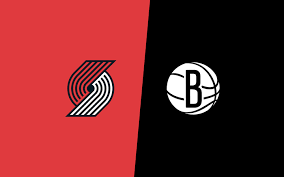 The Portland Trail Blazers are coming off a 132-129 overtime victory over the New York Knicks. They performed admirably on the offensive end of the court, shooting 49.4% from the field. If they want to challenge the Nets on the road, they must stay hot in this one.
Lillard (calf) has a Grade 1 strain and will be evaluated again in 1 to 2 weeks.
According to Marc Spears of ESPN.com, Lillard thought the injury would keep him out for one or two games, but the Blazers are bracing for a slightly longer absence.
While Lillard admitted that this latest calf strain isn't as serious as the one that kept him out for four games earlier this month, he'll most likely miss three or four games with this latest timetable.
Meanwhile, due to a left ankle strain, Justise Winslow is questionable for Sunday's game against the Nets.
Keon Johnson (hip) will not play against the Nets on Sunday.
Johnson will miss his 11th game in a row due to a hip injury. Johnson's next opportunity to play will be against the Clippers on Tuesday.
The Brooklyn Nets are coming off a 128-117 loss to the Indiana Pacers. Brooklyn struggled on the defensive end of the court, allowing the Pacers to shoot 50% from the field. If they want to take care of business at home, they must contest more shots and apply more pressure.
Kyrie Irving finished the Raptors' 112-98 win with 29 points (11-16 FG, 5-8 3Pt, 2-2 FT), one rebound, and three assists in 28 minutes.
Irving led the Nets in scoring in a game where Kevin Durant struggled to make an impact offensively, and the veteran point guard didn't take long to pick up where he left off before his eight-game suspension.
Yuta Watanabe (hamstring) will miss the game against the Trail Blazers on Sunday.
Watanabe is out indefinitely due to a strained right hamstring. Brooklyn will play the Magic on Monday.