Damar Hamlin's uncle spoke to several media outlets Tuesday evening, and he shared some encouraging news.
Dorrian Glenn reported that Hamlin's breathing had improved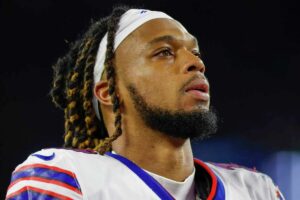 UPDATE (Jan. 8): Hamlin is breathing on his own and communicating with family, doctors, and teammates.
UPDATE (Jan. 6): Damar Hamlin is awake in a Cincinnati hospital, is neurologically sound and is moving his hands and feet, doctors said Thursday.
Glenn said: "Right now, they are just trying to get him to breathe better, they are trying to get his lungs back to full strength. He was on 100-percent being assisted by the ventilators yesterday, and he has improved, I believe, up to 50-percent. So, that is definitely an upward trend, and we are thankful for that."
Glenn also revealed in an interview with CNN on Tuesday that Hamlin died twice on Monday but was resuscitated both times.
"His heart went out, so they had to resuscitate him twice, they resuscitated him on the field before they brought him to the hospital, and then they resuscitated him a second time after they got him to the hospital."
"I just want to show my gratitude to the medical staff that was on hand because if not for them my nephew probably wouldn't even be here."
"He's still sedated right now; they just want him to have a better chance of recovering better so they feel that if he is sedated his body can heal a lot faster because if he was woke, he could possibly cause other complications. So, they have him sedated right now, and it's just heart breaking seeing him like that." He added.
He also stated that he and several family members, including Hamlin's younger brother, were watching the incident unfold from their Pittsburgh home.
"When (his little brother) saw him, I have never seen him cry or scream like that … we were trying to calm him down like, 'Yo, it's OK. He is going to get back up and get back in the game,'" Glenn said as his voice began to crack. "Next thing you know, it's 10 minutes later, they are doing chest compression. It's a half-hour later, they are still not playing, and I'm like, 'Yo, what's going on? What's wrong with my nephew?'
"When I say we were all in the room crying, man, we were all in tears," he continued. "I'm not a crier, but I have never cried so hard in my life. Just to know my nephew basically died on the field, and they brought him back to life, I mean, that is just heartbreaking. To see all those grown men crying, and to see all the emotion, it was a gut punch."
We will keep you updated on Damar Hamlin's situation.