The (13-6) Phoenix Suns will travel to Sacramento, CA on Monday to face the (10-8) Sacramento Kings. The game begins at 10:00 p.m. EST inside the Golden 1 Center. These two teams have yet to play each other this season, but the Kings won their last meeting 116-109.
Final Injury Update Sacramento Kings – Phoenix Suns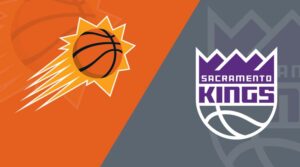 The Suns are coming off a 113-112 victory over the Utah Jazz. Phoenix easily won that game, but they only shot 27.3% from three. If they want to compete with the Kings on the road, they will need to improve their offensive efficiency.
Chris Paul (heel) will not play against the Kings on Monday, according to Gerald Bourguet of GoPHNX.com.
The veteran floor general is set to miss his 10th consecutive game due to a heel injury that has proven to be more complicated than expected. Cameron Payne should be the Suns' starting point guard until Paul returns.
Cam Johnson SF (Knee) and Jae Crowder SF (Personal) are all listed as out.
The Sacramento Kings are coming off a 122-104 loss to the Boston Celtics. In that game, the Kings struggled on both ends of the court, and they will be looking to rebound in this one. They will need to improve their defense if they are to beat the Suns at home.
De'Aaron Fox scored 18 points (7-20 FG, 1-6 3Pt, 3-7 FT) with five rebounds and five assists in 32 minutes against the Hawks last week.
De'Aaron Fox scored three points in the first half on 1-of-6 shooting from the field, as the Kings fell behind early. He scored 15 points in the second half on 6-of-14 shooting while also making only three of his seven free throw attempts.
Despite having a bad night, De'Aaron Fox still leads the Kings in scoring.
No injury report for the Kings.