When the Houston Rockets (5-16) face the Phoenix Suns (15-6) on Friday night, they will be looking to snap a two-game losing streak. The Phoenix Suns are 9-1 in their last ten games against the Houston Rockets.
Final injury update Phoenix Suns – Houston Rockets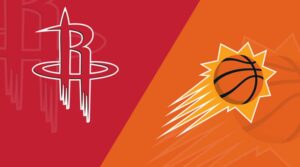 The Suns have been playing well over the last week and are riding a six-game winning streak into this game. They'll try to keep the momentum going by defeating the Rockets, which would be their seventh win in a row and 13th in 14 home games.
Phoenix scores 115.8 points per game. In their most recent game, they scored 132 points while making 52.7 percent of their field goals and 45.5 percent of their three-point attempts.
The Suns were led by Devin Booker, who had 51 points, four rebounds, and six assists. Damion Lee added 12 points and five rebounds to Deandre Ayton's 30 points and 14 rebounds.
Chris Paul (heel) will miss Friday's game against the Rockets.
Paul last played on November 7, and the Suns are monitoring his status on a game-by-game basis. His next opportunity to play will be against the Spurs on Sunday.
The Rockets lost their next two games after a two-game winning streak. They will try to end their losing streak by defeating the Rockets, which would be their third win in their last five games.
The Rockets were led by Kevin Porter Jr., who finished with 23 points, six rebounds, and five assists. Jalen Green finished with 16 points, three rebounds, and three assists, while Alperen Sengun had 18 points and 11 rebounds.
Houston scores 109.8 points per game. They scored 100 points in their last game, hitting 42% of their field goals and 29.3% of their three-point attempts.
Houston has struggled on defense, allowing 116.6 points per game. They gave up 120 points in their previous game and will need a similar effort to win this one.
There is no official injury report for the Rockets, they are expected to have the strongest lineup.