Both the Tampa Bay Buccaneers and the Dallas Cowboys have released their final injury reports for Monday night's Wild Card playoff game.
Final Injury Reports Buccaneers vs. Cowboys: LONG LIST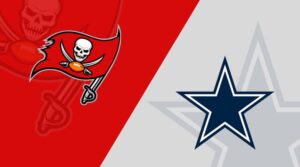 The Tampa Bay Buccaneers have released their final injury report for their wild-card playoff game against the Dallas Cowboys on Monday night, and it's mostly good news for Bucs fans.
Even though this week's injury report is long and full of key players on both sides of the ball, no one on the active roster has been ruled out of this game. They have put two players on their list of doubtful players and nine others on their list of questionable players.
Nick Leverett (knee/shoulder) and Kyle Rudolph (knee) are both not sure if they will play in Monday night's game. Both players were only able to practice a little bit once this week, but they were not able to practice on Saturday. Leverett's condition is worrying, especially since starting center Robert Hainsey (hamstring) and backup lineman John Molchon (ankle) are both questionable for the game. Ryan Jensen, the team's center, hasn't played all season because he hurt his knee in training camp. His return could be the team's last chance.
Jensen could be taken off of injured reserve on Monday before the game. Head coach Todd Bowles said that is when the team will decide who will play guard and center. Vita Vea was the only other Buccaneer who couldn't do as much in practice as Hainsey on Saturday (calf.) Unless something unexpected comes up, Vea should be available on Monday.
TAMPA BAY BUCCANEERS
Carlton Davis (Shoulder) -Questionable
Mike Edwards (Hip) -Questionable
Robert Hainsey (Hamstring) -Questionable
John Molchon (Ankle) -Questionable
Carl Nassib (Pectoral) -Questionable
Keanu Neal (Hip) -Questionable
Logan Ryan (Knee) -Questionable
Donovan Smith (Foot) -Questionable
Vita Vea (Calf) -Questionable
Nick Leverett (Knee/Shoulder) – Doubtful
Kyle Rudolph (Knee) – Doubtful
DALLAS COWBOYS
The Cowboys are mostly healthy heading into the game. Only Trayvon Mullen is out. Micah Parsons, who is a defensive end, did not practice on Saturday because of a personal matter.
Trayvon Mullen (Illness) – Out