The Bills avoided any serious injuries last week, which will be crucial when they face the Bengals, who are riding a nine-game winning streak of their own.
Final Injury Reports
Buffalo Bills –
Cincinnati Bengals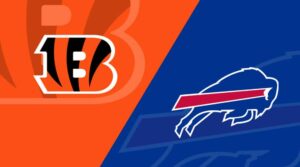 Just three weeks ago, when Damar Hamlin got hurt, these teams saw the unthinkable. Now, they're going to fight again, and it looks like it's going to be an instant classic.
The Buffalo Bills have had some bad luck with injuries this season. On the team's IR list are S Damar Hamlin, DE Von Miller, WR Jake Kumerow, and OT Tommy Doyle.
Last week, Buffalo got good news when WR Jamison Crowder and S Micah Hyde came off IR. This gave them 21 days to practice. Crowder's return date is unknown, but we now know that Hyde won't be back until at least the AFC Championship Game.
DT DaQuan Jones (calf) – Questionable
DT Jordan Phillips (shoulder) – Questionable
Phillips injured his "shoulder" on December 1 when the Buffalo Bills played Thursday Night Football in New England. He fell on an outstretched arm pursuing QB Mac Jones late in the game. Phillips missed two weeks after his injury.
I thought he dislocated/torn his labrum. Return to play averages three weeks. Three weeks after his injury, he played 24% of the snaps against the Bears. Half his usual rate. Phillips played 28% of the snaps in the regular season finale against the Patriots after a virtual week off due to the Hamlin injury. He was sidelined against the Dolphins last week, so he must have aggravated his injury.
Shoulder dislocations cause instability. It can pop out of the socket more easily and damage the shoulder joint. It's possible he's had more dislocations or subluxations.
Phillips practiced sparingly this week. Last week, he missed all practices. Phillips may play this week, but re-injury is likely.
DaQuan Jones has been limited in practice all week for a "calf" injury despite no injury reports from the last game. Over the past month, DaQuan has quietly averaged 70% of snaps. He played 69% against the Dolphins last week.
Since Jones practiced limitedly all week, I think the team is just managing his reps. He may have a low-grade strain causing weekday soreness. He'll play Sunday, but Phillips' return may reduce his snap share.
On Sunday, the Cincinnati Bengals will be without three starters on their offensive line. On the IR, players like CB Chidobe Awuzie and OT La'el Collins are well-known. OT Jonah Williams and OG Alex Cappa will not be able to play in the game. CB Tre Flowers doesn't think so.
CB Tre Flowers (hamstring) – Doubtful
OL Alex Cappa (ankle) – Out
OL Jonah Williams (knee) – Out