Bengals Quarterback Joe Burrow spoke for the first time on Wednesday since Bills safety Damar Hamlin collapsed during Monday night's game against the Bengals.
QB Joe Burrow discusses 'very, very scary' Damar Hamlin situation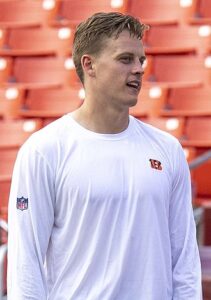 Burrow described his two-day experience: "A lot of emotions, obviously. Very, very scary. Not a lot of clarity. A lot of rumors, just a lot of stuff going around. So, it was a very emotional 48 hours. Not a lot of words you can say about what happened."
Many Bills and Bengals players were visibly emotional on the field as the terrifying scene unfolded, with both teams gathering around Hamlin and offering support to one another.
Burrow described what occurred during those moments. Wednesday, he told reporters: "it was pretty clear early that it wasn't just a normal football injury."
"We tried to do all we could," Burrow said. "We went over there and saw him and tried to give like, you said, give as much support as you can in a situation like that. Nobody wanted to continue to play the game in a situation like that. I know how everybody would be feeling in our locker room if it was one of our guys, and I know how we were feeling, and it was one of their guys. So, it was a scary and emotional night."
Burrow expressed gratitude to his head coach, Zac Taylor, for taking charge during those moments on Wednesday, adding that he feels "proud … to be playing for a guy like Zac."
Week 18 begins on Saturday, and Burrow and the Bengals will attempt to reset and prepare for another game on a short week when they host the Ravens on Sunday in a game that could decide the AFC North title.
Burrow understands that simply moving on from what he and his teammates witnessed Monday night will not be easy. Burrow was unsure whether his teammates wanted to play this weekend when asked.
"Personally, I think playing would be — is going to be tough," he said. "But there's people that want to play, too, and people that don't. Personally, I probably want to play. I think getting back to as normal as you can, as fast as you can, is how I deal with these kinds of things. But like I said, everybody has a different way of dealing with it."
The NFL announced on Wednesday that discussions have begun about resuming the Bills-Bengals game from Week 17. On a conference call, NFL executive vice president of communications, public affairs, and policy Jeff Miller stated that the league has not made a decision on the game's status but plans to do so in the coming days.
"I think that would be tough, just scheduling-wise," Burrow mentioned finishing the game later. "I think whatever Buffalo would want to do, would be what we would want to do as well. We're behind them 100 percent and support them in whatever they would decide to do going forward."