The Lakers defeated the Spurs 123-92 as 6-point home favorites with a total of 228.5 points last Sunday. This time around, Los Angeles is a 4-point road favorite, so let's take a closer look.
The latest injury status of LeBron James and Anthony Davis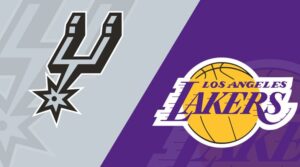 The Los Angeles Lakers (5-11; 5-11 ATS) lost their three-game winning streak last Tuesday, falling to the Phoenix Suns 115-105.
With 37 points, Anthony Davis led the Purple-and-Gold. 21 rebounds, 5 steals, and 5 blocks Russell Westbrook added 21 points and five assists off the bench, while Lonnie Walker IV scored 24 points on 8-for-18 shooting.
Anthony Davis has been unstoppable recently, averaging 30 points and 15 rebounds in four straight games. Last Sunday, Davis had 30 points, 18 rebounds, and three steals against the Spurs, while the Lakers' second unit had 53 points and six three-pointers.
Due to a groin injury, LeBron James (24.9 PPG, 8.8 RPG, 6.9 APG) has missed the last five games. According to Chris Haynes of TNT, James intends to play against the Spurs on Friday.
Patrick Beverley was suspended for three games after shoving Deandre Ayton during the Suns' loss on Tuesday.
Juan Toscano-Anderson (back) is expected to play against the Spurs on Friday.
The San Antonio Spurs (6-13; 9-10 ATS) extended their losing streak to six games last Wednesday, falling 129-110 to the New Orleans Pelicans as 5.5-point home underdogs.
According to Paul Garcia of ProjectSpurs.com, Zach Collins (lower leg) is questionable for Friday's game against the Lakers.
Zach Collins hasn't played since November 4 but is close to returning. If he's available, he'll most likely be on a time limit.
Spurs have listed Jordan Hall, Doug McDermott, and Josh Richardson as questionable.