The Philadelphia 76ers (10-9, 2nd Atlantic) travel to central Florida and the Amway Center on Sunday to face the Orlando Magic (5-14, 5th Southeast). This will be the second consecutive game between Philadelphia and Orlando, with Philadelphia winning 107-99 on Friday night.
Latest injury news on Joel Embiid and James Harden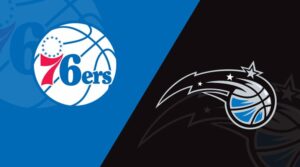 The 76ers have been without their leading scorer and rebounder, Joel Embiid, who is questionable for Sunday but did not play against the Magic on Friday. The 76ers are also missing second-leading scorer Tyrese Maxey, James Harden, and Jae Crowder, leaving them with a very thin roster.
Joel Embiid (foot) will miss the game against the Magic on Sunday.
Embiid will miss his fourth straight game on Sunday due to a left foot sprain. Embiid's next opportunity to play will be against the Hawks on Monday. In his absence, Montrezl Harrell and Paul Reed should continue to see extended frontcourt minutes.
On Thursday, James Harden (foot) stated that he is on track with his recovery.
Harden suffered a right foot tendon strain in early November and was expected to miss about a month, but two weeks later, he's making good progress.
Tyrese Maxey (foot) will be out for three to four weeks due to a small fracture in his left foot.
Matisse Thybulle (ankle) will miss Sunday's game against the Magic.
Thybulle's left ankle pain will keep him out for the time being. He's struggled to find a role this season and hasn't played in double figures since November 13. At this point, his presence has little effect on the rotation.
Orlando hasn't escaped the injury bug either, as their leading rebounder Wendell Carter Jr. is questionable, as is their assist leader Cole Anthony, among others who are either questionable or definitely out.
Kevon Harris – Illness
Markelle Fultz – Toe
Cole Anthony – Oblique
Jalen Suggs – Ankle
Terrence Ross – Illness
Chuma Okeke – Knee
Wendell Carter Jr. = Foot