On Friday, the New York Knicks will play the Portland Trail Blazers at Madison Square Garden. Last season, these teams split their two meetings, with the home team covering and winning both games.
Derrick Rose and Cam Reddish QUESTIONABLE for Knicks -Blazers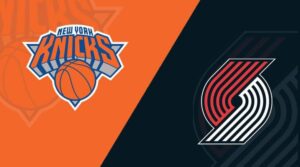 You can read also: Are Trae Young and Bogdan Bogdanovic PLAYING vs Rockets? Injury Reports Hawks
New York Knicks
This season, the New York Knicks are 8-9-1 against the spread, and the over/under is 9-9. After snapping a two-game losing streak with a 129-119 win over Oklahoma City on Monday night, the team should be well rested.
Jalen Brunson led all scorers with 34 points, shooting 14 of 20 from the field. They are now 4-3 all-time at the Garden.
The Knicks are 20th in the NBA in offensive rating and 19th in defensive rating. They have struggled with shooting, ranking 29th making 31.6% from three, and 24th making 45% of their shots from the floor.
Brunson and Julius Randle are tied for the team lead in scoring with 20.8 points per game and have not missed a game.
Randle also leads the team with 8.8 rebounds per game, and Brunson is dishing out 6.7 assists per contest.
Rose (toe) is questionable for Friday's game against the Trail Blazers.
Rose participated in most of Wednesday's practice — a good sign for his availability Friday. He sat out Monday's game against the Thunder due to toe pain.
Reddish (groin) is a game-time decision for Friday's game against the Trail Blazers.
Reddish was limited in practice on Wednesday, which bodes poorly for his potential availability on Friday.
If Reddish sits out again, Quentin Grimes will most likely remain in the starting lineup.
Injury Update
Cam Reddish (Groin): Game Time Decision
Mitchell Robinson (Knee): Game Time Decision
Derrick Rose (Toe): Game Time Decision
Read more: The latest news on Bradley Beal and Tyler Herro. Injury Update for Heat – Wizards
Portland Trail Blazers
Portland is 12-6 against the spread this season, and the over/under in their games is 6-11-1. Portland is 6-4 on the road, but they have lost three of their last four games.
Overall, Portland has lost four straight games, falling 114-96 on Wednesday night to the Nets, Jazz, Bucks, and Cavs.
Damiana Lillard will also not be present on Friday, as the superstar will be evaluated within the next 10 days.
Anferenee Simons is the team's second-leading scorer, averaging 22.8 points per game.
The Trail Blazers are tied for 16th in the NBA in offensive rating. They are sixth in the NBA in three-point percentage (38%), and 25th in scoring (109.2 ppg). The defense is also ranked 16th, giving up 109.2 points per game.
Injury Update
Keon Johnson (Hip): Expected to be out until at least Nov 27
Drew Eubanks (Back): Game Time Decision
Damian Lillard (Calf): Expected to be out until at least Nov 29
Gary Payton II (Abdomen): Expected to be out until at least Dec 3