On Sunday, the San Francisco 49ers will host the Miami Dolphins at Levi's Stadium in a crucial matchup between NFL contenders. The Dolphins won by 26 points on the road the last time these two teams met in 2020, and it's a result they'd like to repeat.
Latest news on Christian McCaffrey and Deebo Samuel for Week 13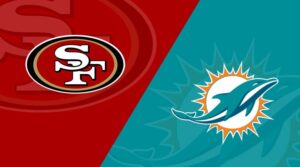 San Francisco may have started slowly, but after making waves at the trade deadline, this team has recently gained confidence and momentum. Four straight victories have impressed, with two of those victories coming against divisional rivals.
The 49ers will be concerned about some key injuries heading into this game as well.
Jimmy Garoppolo (knee) is expected to start at quarterback, though some of his weapons are in doubt.
Elijah Mitchell (knee) has been placed on injured reserve.
Deebo Samuel (quadriceps) and Christian McCaffrey (knee) are both questionable.
An irritated knee will not prevent McCaffrey from playing; in fact, if his knee holds up, he could be in for a heavy workload on Sunday. Deebo, another dual threat with a deep quad bruise, Samuel is questionable and could be a game-time decision.
The Dolphins have been one of the most impressive teams in the NFL this season, and while the Bills have gotten all of the attention in the AFC East, the Dolphins are right there with them. A three-game losing streak in the middle of the season appears to be less of a concern as the season progresses, especially given their current five-game winning streak.
The Dolphins are also concerned about a few injuries in this game.
Tua Tagovailoa (ankle) is one name to keep an eye on, though he is expected to play this weekend.
LT Terron Armstead (pectoral) and WR Tyreek Hill (lower body) are both questionable for the weekend, adding two potentially significant absences to the lineup.
On defense, Byron Jones (ankle) and Trill Williams (knee) are both out, hurting the secondary.
OT Austin Jackson (ankle) is also out for this game, raising concerns about the offensive line and Tagovailoa's protection.