On Monday, the Washington Wizards will host the Minnesota Timberwolves at Capital One Arena. The game will begin at 7:00 p.m. ET from America's capital city.
Latest news on Bradley Beal and Monte Morris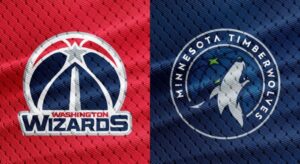 Washington Wizards scored a season-high 38 points on 15-of-21 shooting in the first quarter against Miami on Friday.
Bradley Beal had 28 points (11-20 FG, 4-7 3Pt, 2-3 FT), five rebounds, five assists, three blocks, and one steal in 38 minutes against the Heat on Friday.
Beal (quad) appeared to be in good health as he prepared for a heavy workload in the midst of a tense battle. He was Washington's scoring and assist leader. In addition, he's scoring efficiently, shooting 51.6 percent from the field through 13 games.
Morris has missed three straight games due to an ankle injury, but he will return to the starting lineup on Monday. The veteran point guard has started all 16 games this season, averaging 8.7 points, 5.0 assists, and 3.9 rebounds in 27.3 minutes.
Due to a low-back injury, Kyle Kuzma will miss his first game of the season. Rui Hachimura (ankle) is also out, so Anthony Gill and Will Barton are likely to see increased playing time against the Timberwolves.
Meanwhile, Hachimura will be out for the fourth time in a row due to a sore right ankle.
Minnesota Timberwolves blew a ten-point halftime lead in Charlotte, shooting only 22 percent from three-point range. The Hornets' rally was aided greatly by a lack of focus, which Minny fans were not used to seeing from the team recently.
Jaden McDaniels was added to the injury report late due to illness and was initially listed as questionable, but coach Chris Finch said the forward would not play.
McLaughlin is doubtful to play in his third consecutive game due to a left calf strain.