The Los Angeles Lakers will play the Milwaukee Bucks in a game with high box office appeal on Friday.
Are Anthony Davis and LeBron James playing vs Bucks?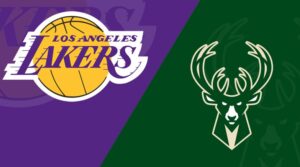 Los Angeles is set to have a difficult month of games in December, with 16 games in 28 days. With roughly a quarter of the season remaining, now is the time for the Lakers to close the gap on the playoff race.
Davis (back) is expected to play against Milwaukee on Friday.
Davis is still dealing with low back tightness, but he is expected to play against the Bucks.
He's had double-doubles in eight consecutive games, averaging 30.4 points, 15.9 rebounds, and 2.8 assists in 33.5 minutes per game.
LeBron James (adductor) is listed as probable for Friday's game against the Bucks.
James is still dealing with a left adductor strain, but he doesn't appear to be in serious danger of missing Friday's game.
In his last four games, he has averaged 28.0 points, 8.3 rebounds, and 4.8 assists in 34.0 minutes.
The Bucks are regaining their footing a quarter of the way through the season and will benefit from the return of Middleton, who missed the EC semifinals last season and the first 20 games this season.
Middleton (wrist) is expected to play against the Lakers on Friday.
Middleton intends to make his season debut on Friday, and his presence on the team's official injury report supports that expectation.
Serge Ibaka (illness) will miss Friday's game against the Lakers.
Ibaka will be out for the fifth game in a row. His next opportunity to play will be against Charlotte on Saturday.
Meanwhile, Beauchamp (illness) will not play against the Lakers on Friday.