Tom Brady is set to enter free agency for the second time in his career, but four-time MVP Aaron Rodgers may prevent him from joining the Las Vegas Raiders.
Tom Brady may be forced to return to the Patriots if Aaron Rodgers sensationally leaves the Packers to join the Raiders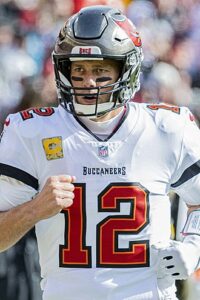 Tom Brady, the seven-time Super Bowl champion, is preparing to enter free agency for the second time in his illustrious career, with his contract with the Buccaneers set to expire at the end of the season.
There has been much speculation about what Brady might do in 2023, with retirement and finding a new team both being mentioned. The 45-year-old has been linked to a spectacular return to the Patriots, with whom he won six Super Bowls, as well as a move to the Las Vegas Raiders.
Brady's ties to the Raiders are not unfounded, as his former offensive coordinator with the Patriots, Josh McDaniels, is the Raiders' head coach. Former Packers wideout Greg Jennings believes Rodgers can dethrone Brady by first securing a move to Sin City.
When asked about Rodgers' uncertain future, Jennings said on Colin Cowherd's Fox Sports show, The Herd: "My reaction was kind of like 'here we go again'. The Packers are in another situation where they're going to have another offseason where they're waiting on the head nod from Aaron Rodgers over whether he is coming back.
"This is something they know they're going to be up against each and every year if he does decide to come back because of where he is in his career. They ended the year well, as far as winning some games, but in my opinion I don't know if we do see Aaron Rodgers back.
"I don't think he retires. I don't think he's just going to walk away from the game, and we'll see if there are some takers on any trades to see if Aaron Rodgers goes elsewhere. I think he ends up back in Green Bay. If not, Las Vegas is a place I've mentioned that I think he would entertain."
Derek Carr's impending departure from the Raiders is expected to spark a quarterback carousel throughout the NFL, and Brady – and possibly Rodgers – will undoubtedly be a big part of that this offseason. Given the exciting market and talent on the roster, the Raiders could be an appealing proposition for either of the superstar duo, as both men are eager to compete for Super Bowl rings as their respective careers come to an end.
While Rodgers and the Packers were denied a playoff spot after falling to the Detroit Lions on Sunday, Brady is preparing to host a postseason game against his stuttering Buccaneers.
Despite his struggles this season, Brady earned his 14th consecutive playoff appearance as well as his 19th divisional title.
In his 21-year career as a starting quarterback, Brady has only missed the playoffs once. With a win over the Dallas Cowboys next Monday, he hopes to extend his stay in this year's run.