Posted by Rebecca

on November 1st, 2010


Eddie Cibrian had this picture of him proposing to LeAnn Rimes taken and the two of them had a BALL with people thinking they may be engaged.  Wow, Famewhores, much?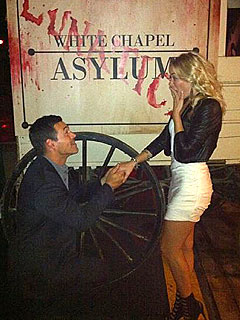 Bound in holy sham?
"In a picture Tweeted by live-in boyfriend Eddie Cibrian – then re-Tweeted by Rimes – the actor kneels in front of a sign that reads White Chapel Lunatic Asylum. Add to that, the fact that Cibrian is holding Rimes's right hand in his as she covers her mouth in excited shock."
Thanks for that description, People Magazine.  Turns out, it's all for publicity. WHAT? NOT THESE TWO. NEVER!
"They are not engaged," says a source close to Rimes. "It was just part of the Halloween fun."
Gag me.
Category:
Celebrity Stupidity
,
Eddie Cibrian
,
LeAnn Rimes